This is an archived article and the information in the article may be outdated. Please look at the time stamp on the story to see when it was last updated.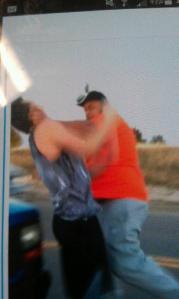 PARKER, Colo. — Social media has helped lead Parker Police to a road rage arrest.
Steven Paula, 43, was arrested Friday night on a third-degree assault charge for allegedly attacking 18-year-old Mason Deal leaving him with a black eye and a concussion.
It turns out Paula may have has his daughter to blame for his arrest.  She recorded the attack on her cell phone and posted the video on Snapchat, police said.
"Part of me feels bad for her thinking that it was okay to post something like that on social media and think it was funny but at the same time she gave us everything we needed and for that I'm grateful," said Deal when he heard about the arrest.
The post was quickly deleted but not before a screenshot was saved by a friend of the victim, police said.
The victim's family shared the image with police, who identified Paula as their suspect. The single image appears to show a much larger Paula punching Deal.
The incident happened near the intersection of Jordan Road and Bradbury Parkway around 4:55 p.m. on Nov. 8.
Deal said he was heading southbound on a stretch of Jordan Road that merges from two lanes to one.  He said the road rage suspect tried to pass him where the two lanes merge and the two cars clipped each other.
Deal said he remembered stopping his car and seeing the driver in front of him, get out of his minivan.  Deal thought the man was going to ask for his insurance information but instead the man attacked him.
The teen's father, Mike Deal said he still can't believe Paula's own daughter thought it was appropriate to post a video that showed her father hitting someone over a fender bender.
"Incredibly fortunate for us, incredibly thoughtless and stupid (of her) to do that," said Mike Deal.
Paula wasn't home when we knocked on his door for comment.
Parker Police say Paula was booked with misdemeanor assault because no weapon was used and there was no permanent injury to the victim.