This is an archived article and the information in the article may be outdated. Please look at the time stamp on the story to see when it was last updated.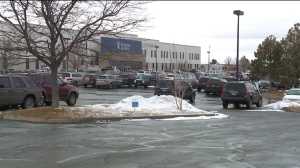 DOUGLAS COUNTY, Colo. — SkyView Academy in Highlands Ranch was evacuated and five people were taken to a hospital Tuesday after a chemical incident at the school.
The Douglas County Sheriff's Office, Littleton Fire Department and South Metro Fire Department all responded to the school after a chemical device went off, deputies said in a post online.
Sgt. Ron Hanavan of the Douglas County Sheriff's Office said it was too early to say exactly what the device was.  He said it was "chemical in nature" and that it had "ruptured" in a classroom.
Tuesday afternoon deputies said their initial investigation determined the rupture was "not an accident" and they are pursuing the matter as a criminal investigation.
Two juvenile boys have been taken into custody, Hanavan said. Because they are minors, their names will not be released, he said.
The district attorney's office will have to determine if charges will be filled.
"We would ask that parents of SkyView Academy talk with your students and if they have additional information related to this case to contact the Douglas County Sheriff's Office Tip Line 303-660-7579 or speak to their School Resource Officer," Hanavan said.
Technicians were working to determine what exactly the device was and what chemicals were inside it. One student told FOX31 Denver's Chris Jose that she saw two students shaking up a water bottle that contained lithium and water. The combination of the two can cause a small explosion. But as of of Wednesday morning, police had not confirmed if it was that device that had caused the chemical incident.
The five taken to a hospital, four students and one teacher, had respiratory injuries, Hanavan said, but were not seriously injured.
The device ruptured around 10 a.m., Hanavan said. Students were initially taken outside, but then ushered to the gym where they were re-united with parents.
SkyView executive director Lisa Nolan said the evacuation went according to plan.
The school was searched and cleared of any other threats, Hanavan said.
Classes at the school were cancelled for the rest of the day. Tuesday afternoon, the school made the decision to reopen Wednesday as normal.