This is an archived article and the information in the article may be outdated. Please look at the time stamp on the story to see when it was last updated.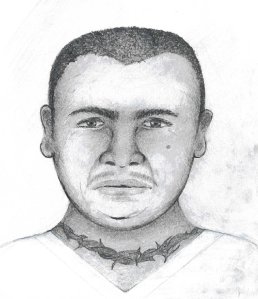 COLORADO SPRINGS, Colo. — Police are hoping a sketch released Tuesday will help them identify a man wanted in an attempted kidnapping in Colorado Springs.
A 15-year-old girl told police a man in a white sedan approached her in the parking lot of the Picture Show at Citadel Crossing about 5 p.m. Thursday.
She said the man ordered her to get in the vehicle. When she refused, she said he got out of the vehicle, grabbed her by her jacket and tried to pull her inside.
She pulled away and ran, but told police she saw him driving around the parking lot as though he was looking for her.
She described the suspect as a Hispanic man in his 40s, about 6-foot and "fat." He has a tattoo of thorns across his neck.
Anyone with information is asked to call police at 719-444-7000 or the Crime Stoppers tip Line at 719-634-7867 or 1-800-222-8477.
[protected-iframe id="2198c8c908e460d26509987f49fcbd7d-29290497-62452405″ info="https://www.google.com/maps/embed?pb=!1m14!1m8!1m3!1d99437.12217003663!2d-104.81633610854108!3d38.84596939999998!3m2!1i1024!2i768!4f13.1!3m3!1m2!1s0x0%3A0x860d6b278365e788!2sPicture+Show+at+Citadel+Crossing!5e0!3m2!1sen!2sus!4v1485917304126″ width="100%" height="450″ frameborder="0″ style="border:0″ allowfullscreen=""]