This is an archived article and the information in the article may be outdated. Please look at the time stamp on the story to see when it was last updated.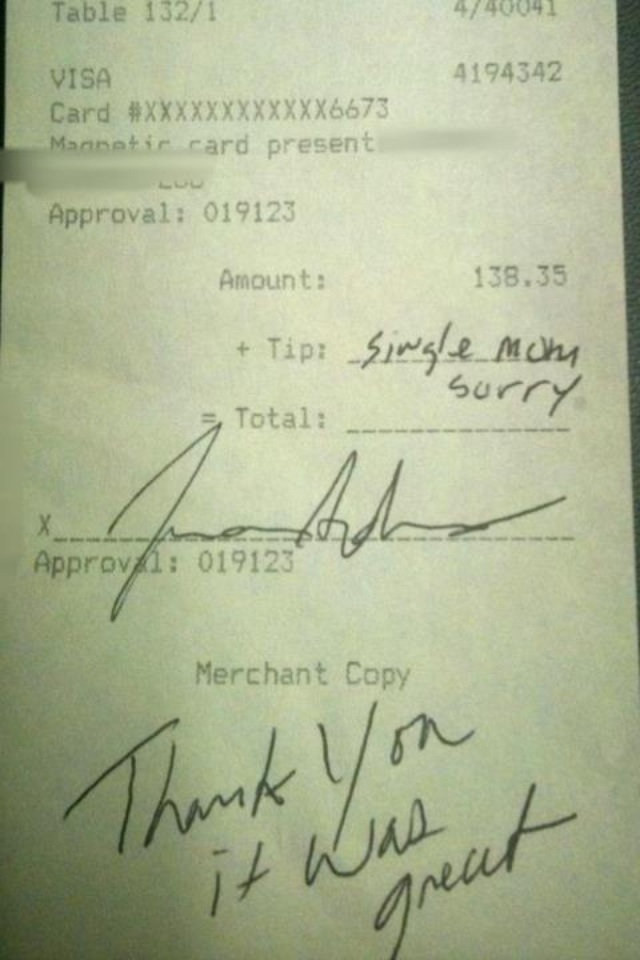 An unidentified woman in an unspecified city apparently had enough money to pay for a $138.35 bill, but not enough to handle 15 percent more than that.
An online discussion has broken out around the country after the included photo surfaced on Reddit. Following the $138.35 bill, the photo displays a tip line with this handwritten inscription: "Single mom sorry."
One of Reddit's editors, PhenixSongFawkes, posted the photo, and wrote, "I'm sure $140 could have gotten you and your kids a week worth of groceries, but instead you spend it one one meal?! For shame!"
That tends to be the general sentiment of comment posters on Reddit and other social media sites, with most insinuating that if the woman could afford a $140 bill, she could probably afford to add a somewhat-obligatory 15 percent tip, which would total $21.
Others have questioned the validity of the photo. That group includes Lindsay Cross, a blogger for Mommyish and former single mom.
"It's completely possible that someone wanted to be an asshole and blame it on single moms. Honestly, the more I think about how anyone would do this to a waitress, the more I think it's likely that this was just a very awful prank to make single moms look bad," she wrote on her blog."
What is your take on this mom's alleged actions? Do you think this photo is real or fake? Tell us on Facebook.