This is an archived article and the information in the article may be outdated. Please look at the time stamp on the story to see when it was last updated.
UPDATE, 10:00PM: The lead negotiator for Denver police talked exclusively with FOX31's Deborah Takahara about the successful end to the hostage crisis.
UPDATE, 9:00PM:
See Details of the end of the standoff here
Radio Shack hostage held up at gunpoint at store before
Radio Shack suspect arrested eight times in last 11 months
UPDATE, 4:00PM: Police say the hostage situation is over. Two suspects were taken into custody and the hostage was safe. DPD Chief Robert White says "phenomenal job" by police to end the standoff peacefully.
UPDATE, 3:14PM: A statement was released from the corporate offices of Radio Shack: "We are continuing to monitor the situation just like everyone else, we are watching it live. We pray for the safety of everyone involved."
UPDATE, 1:27PM: This update is provided from reporter Julie Hayden, who  just spoke with Ernest Watson, a friend of one of the suspects inside the Radio Shack.
Watson said there are actually two suspects inside the building. The other male is 20 years old. He said the two were attempting to rob the Payday Loans stores next door and not the Radio Shack.
When police arrived, Watson said the two suspects fired at officers, grabbed a hostage and retreated inside the Radio Shack.
Watson spoke with Hayden right after he finished assisting police. He said the two suspects have no demands. He said he also thinks they have no plans to give up. "They know they're either going to jail forever or that the police are going to shoot them," Watson said.
According to Watson, police have cut off his cell phone and Facebook usage. He was using both to communicate with the suspects.
UPDATE, 1:18 PM: New information on the hostage, from his ex-wife. His mother has cancer and had a blood transfusion yesterday.
UPDATE, 12:50 PM: Two corrections. The original report that the suspect's brother was killed by Aurora police is false. The man who was killed was a close friend of the suspect.
We also know the identity of the hostage. He's the manager of the Radio Shack and a single father.
UPDATE, 12:45PM: A review of the scanner traffic from this incident:
"All cars, on a robbery that just occurred at Glencoe and Colfax at Radio Shack. Two parties entered about a minute ago with red bandanas covering their faces."
"Hold the air, we had one run back in. Keep your perimeter."
"Glencoe & Colfax. Shots fired."
"Somebody just closed the back door. They're inside. We have a barricaded suspect."
"We've got two black males inside the store with masks on with shots fired from inside."
"One black male has on a striped black and white shirt on with long sleeves and it looks like black pants"
"Rifle in the front. Watch your crossfire"
"Woman says the clerk never did come out"
"There's a long gun on the east, on the south and on the west side of the building"
UPDATE, 12:20 PM: Suspect's friends and family say he has a 2-year-old daughter. We have obtained the Facebook photo that shows the suspect inside the Radio Shack and are awaiting word from police about whether or not we'll be allowed to post it.
UPDATE, 12:11 PM: Our Heidi Hemmat is reporting that the suspect is a Radio Shack manager.
UPDATE, 12:05 PM: Another post from the suspected gunman reads, "Sorry Mom." The photo attached to one of the Facebook posts shows what the suspect's friends and family believe to be the hostage he has taken.
UPDATE, 11:47 AM: A 19-year-old suspected gunman inside has indeed been posting to the Facebook and has put up a picture of himself inside the store. He also posted his cell phone number and told his friends to call it.
The most recent post read: "Swear to God, I'm gonna die."
We have also heard from the suspect's friends on the scene that his brother was killed by Aurora police recently and he fears his fate may be the same.
UPDATE, 11:27 AM: Scanner traffic indicates that police have thrown a phone into the store in an effort to further communicate with the suspect.
UPDATE, 11:18 AM: Police are saying they will not confirm that shots have been fired, nor will they confirm that anyone has been injured.
Citing an anonymous source inside the police department, our Julie Hayden is reporting that at least one officer is inside the Radio Shack, where a suspect is holding a hostage in the back room. Right now it does not appear anyone is hurt.
UPDATE, 11:02 AM: Police have confirmed there are at least 2 officers, one hostage and at least one suspect inside. A crisis negotiation team has just arrived.
UPDATE, 10:57 AM: Scanner traffic indicates an individual may have the feed to cameras inside the store and
UPDATE, 10:54 AM: Scanner traffic indicates that one of the suspected gunman is posting on Facebook right now.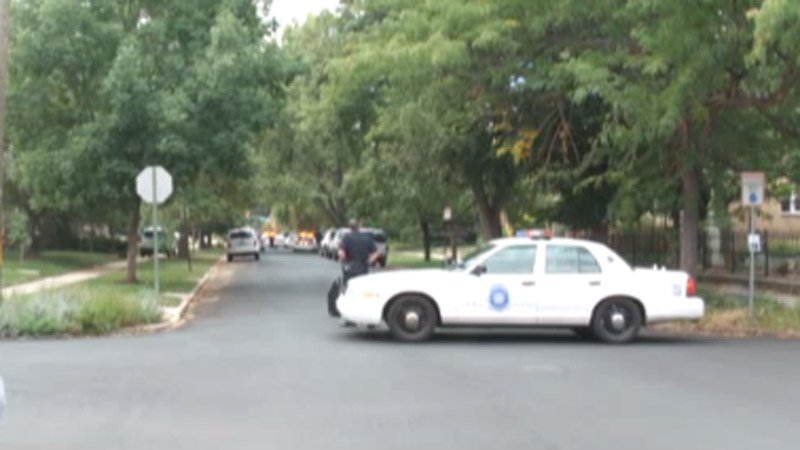 UPDATE, 10:49 AM: Our Julie Hayden reports that the two suspected gunman blasted out the front door of the Radio Shack with a shotgun and began firing on police. Police then returned fire.
She said police are standing down, which Hayden said may mean one or both of the suspects are dead.
UPDATE, 10:48 AM: Denver police are saying four schools on lockdown due to this standoff: Palmer Elementary, Montclair School Academics and Enrichment, Teller Elementary and Park Hill Elementary.
UPDATE: 10:46 AM: Correction: Our Justin Joseph is now saying that there are three people inside the Radio Shack — two suspects and one hostage.
UPDATE, 10:44 AM: Our reporters at the scene are saying three hostages are being held in the Radio Shack.
UPDATE, 10:38 AM: Our Justin Joseph reports that one suspect appears to be issuing demands about a time frame for police action. "Two minutes or I will start shooting," Joseph reports the suspect as saying.
UPDATE, 10:36 AM: We now have a live shot from the scene of this shooting. View it by clicking here.
UPDATE, 10:20 AM: Our reporters on the scene are telling us a three-block barricade has been set up around the store at 5305 East Colfax Avenue.
UPDATE, 10:18 AM: Scanner traffic has indicted that additional shots have been fired at the scene.
UPDATE, 10:15 AM: Denver Police Det. John White is saying that police received a call about a robbery in progress at this Radio Sack location. When they arrived on scene, they were fired at.
White said he cannot confirm details about the hostages, but he believes the suspects are still inside.
DENVER — Denver police have confirmed that shots were fired near the intersection of Glencoe Street and Colfax Avenue, and that hostages are being held at a nearby Radio Shack store.
All of this is causing a bevy of police to descend on the store and form a large barricade around the address of 5305 East Colfax Avenue. Scanner traffic indicates that hostages are being held by two masked suspects inside the store.