This is an archived article and the information in the article may be outdated. Please look at the time stamp on the story to see when it was last updated.
FORT COLLINS, Colo. — Three people, including a Colorado State University student, were killed in a shooting near campus on Thursday morning and it's being investigated as a homicide, the Fort Collins Police Department said. A fourth person, a female, was shot and injured.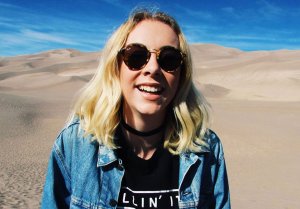 The Larimer County Coroner's Office identified one of the victims as 22-year-old Savannah McNealy.
She was a student at the university. A CSU student directory said she was studying liberal arts, art and art history. She was from Highlands Ranch.
"It is with a very heavy heart that I write to inform you that Savannah McNealy, a CSU senior, was killed last night in the shooting that occurred on City Park Avenue," CSU president Tony Frank said in a statement.
"Savannah majored in art and would have graduated this December. A member of the student media staff and an intern on CSU's Creative Services Team, she was well-loved and respected by those who knew her.
"I didn't have the pleasure of knowing Savannah personally, but I have talked this afternoon with others who did … and she sounds like an exceptional, bright, energetic, confident, and creative young woman. She was clearly loved as a friend and daughter."
He said a vigil in McNealy's honor was scheduled Friday afternoon near the Ram Walk on Meridian Drive.
"Savannah was instrumental in coming up with the idea and design for the Ram Walk, the orange stripe that has already become such an important CSU tradition," Frank said.
Close family friend Melissa Cox told FOX31 she grew up with Savannah's mother and knew Savannah since she was born.
Cox describeD the CSU student as "just a light to people" and says Savannah's family is coping with tremendous grief adding, "they are focusing on her life and how much they loved her."
Savannah was regarded as being beautiful, vibrant, caring and generous. She helped youth through the Young Life Organization in Douglas County and continued to reach out to those in need at CSU.
Cox said Savannah believed in living life to the fullest, "from skydiving to hiking she loved life."
Savannah's close knit family is devastated, but Cox says one thing is keeping them strong. "They are dealing with how you make sense of a tragedy,  but they know there`s a reason and they have comfort in their faith."
The family had just gathered on Wednesday to celebrate Savannah's 22nd birthday.
Cox said they cherish those last moments. "They had dinner with her, left her at 10 o'clock and were able to give her a hug and tell her they loved her."
Cox also emphasized the importance of telling our loved ones how much we care, "If her mom was able to talk to you she would basically tell parents, don`t ever leave your kids without telling them you love them and giving them a hug because you never know what will happen tomorrow morning."
A Celebration of Life ceremony will be held on Monday.  Donations to the Young Life organization can be made in Savannah McNealy's name here.
The shooting
The shooting was reported west of the campus at the Sunstone apartment complex at 720 City Park Ave. just before 2 a.m. Thursday, police said.
When officers arrived they found four people with gunshot wounds. The other three are not affiliated with the university.
Investigators believe the suspect, who is also believed to be dead, was known to at least one of the victims.
Sgt. Dean Cunningham with an update on the homicide. More information online at https://t.co/DVvbOJV3MY pic.twitter.com/lD97RNvJJU

— Fort Collins Police (@FCPolice) October 19, 2017
The Colorado State University Police Department issued an alert at 2:35 a.m. that provided a description of a suspect and warned people nearby to stay inside.
"Pow pow pow, and then a short pause like maybe three to five seconds, and then the same thing again, pow pow pow," Eric Howard said in describing the sounds he heard Thursday morning.
"There was a girl screaming and I could see her sitting there, and as I approached her and got around the bike rack, I noticed there was two bodies on the ground."
When everyone else was told to stay inside, Howard went to help.
"My first instinct was to try to do CPR on one of them, and that's when I noticed that the blood was just pooling several feet out from the bodies," he said.
When Howard got there it was too late.
"It's kind of scary, especially since it's right here. We could  hear the gunshots from our rooms," CSU student Brooke Dietrich said.
It happened steps away from campus at the nearby apartment complex.
"I don't understand if it was a random thing, or if it was planned and it's just kind of scary. Could it happen again?" CSU student Karlee Suhanyi said.
Police were in and out of the complex all day trying to answer some of those questions.
Alerts just after 3 a.m. and 4 a.m. warned that a suspect was still at-large. But Fort Collins police said about 4:40 a.m. that it was not looking for any other suspects related to the shooting.
Campus police issued an all-clear at 4:50 a.m.
What led to the shooting is under investigation.
"There's parties going on around here. Like I said, fireworks and shenanigans of that sort. But gunshots is a new one," Howard said.
"As far as I'm concerned, I have it easy compared to the girl that was there and survived, and for the families of the deceased, my heart goes out to all those guys."
There is no update on the condition of the surviving victim.
Anyone with information is asked to call police at 970-419-3273.