This is an archived article and the information in the article may be outdated. Please look at the time stamp on the story to see when it was last updated.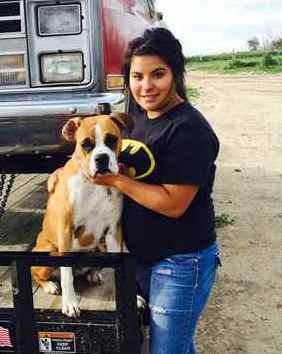 BRUSH, Colo.  — Deputies are seeking information about a missing 16-year-old from the Brush area, the Morgan County Sheriff's Office said.
Monique Valles she was last seen about 10 p.m. Sept. 12 at her home south of Brush in Morgan County.
She attends Brush High School and was working at Eben Ezer in Brush, the sheriff's office said.
There have been no credible sightings or contact with the girl for nearly a week, the sheriff's office said.
She is described as 5-foot and about 160 pounds with brown eyes and black hair.
She reportedly left with her dog, a boxer with a full-size uncropped tail that is not microchipped.
Monique's type of transportation or a vehicle possibly associated with her was unknown.
The sheriff's office said Monique has an out-of-state boyfriend and it has phone contact with him.
Anyone with direct knowledge of Monique being with him or planning to him is asked to call her father or the sheriff's office.
There has been no known contact by anyone with Monique, but authorities believe there might be people who have seen or heard from her, and the sheriff's office is asking those people to come forward.
Anyone with information is asked to call the Morgan County Sheriff's Office at 970-867-2461.
[protected-iframe id="0644309b86a86b79ceb1a7b9d558270a-29290497-62452405″ info="https://www.google.com/maps/embed?pb=!1m18!1m12!1m3!1d779469.7633720705!2d-103.65416216996183!3d40.25789228141131!2m3!1f0!2f0!3f0!3m2!1i1024!2i768!4f13.1!3m3!1m2!1s0x876df132ca5c3521%3A0x2a6e159584ae0314!2sBrush%2C+CO+80723!5e0!3m2!1sen!2sus!4v1442798851001″ width="100%" height="450″ frameborder="0″ style="border:0″ allowfullscreen=""]