This is an archived article and the information in the article may be outdated. Please look at the time stamp on the story to see when it was last updated.
GREELEY, Colo. — Sheriff's deputies in Weld County have cited three people after an animal rights group recorded video of workers at a cattle farm allegedly abusing adolescent cows.
The video by Compassion Over Killing was released to the public on Tuesday. The video claims to show workers at the Quanah Cattle Company dragging calves by the ears, legs and tails — treatment that is prohibited by the USDA.
The Weld County Sheriff's Office was also given a copy of the video and began investigating immediately, a spokesman said. While the investigation is still ongoing, three people have been cited for misdemeanor animal abuse charge for their involvement in the abuse, deputies said.
The three have been identified as Ernesto Alvarez, Tomas Cerda and Larry Loma.
https://twitter.com/HaydenTV/status/401419545941786624
The Quanah Cattle Company sent FOX31 Denver a statement saying the three workers seen in the video were fired.
"We do not not tolerate animal abuse," the statement said. "Since we learned about the incident we have taken immediate corrective action and terminated the three individuals seen in the video. We are now focused on re-training our employees and taking care of our animals."
Deputies said all three suspects in the case were believed to have been hired through a temporary agency.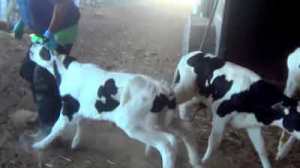 Video called 'heartbreaking' and 'illegal'
Compassion Over Killing described the treatment of the calves as "heartbreaking" and "illegal."
A member of the group went undercover and recorded the video. The Quanah Cattle Company is a calf-raising facility owned by J.D. Heiskell & Co., a large commodity trading and livestock feed manufacturing company.
Quanah workers pick up newborn calves from area dairy farms and then keep them in crates or pens for about a week before shipping them off to the slaughterhouse or calf-raising farm.
This type of facility is not regulated by the U.S. Department of Agriculture.
Dr. Temple Grandin, an animal handling expert at Colorado State University says if it was it would be shut down.
Grandin points out some of the calves are so young you can see umbilical cords, and that's too young for them to have been removed from the dairy farm.
There are also pictures of dead calves.
Robert Hodgen, a Quanah manager, said he never saw that kind of treatment. But after seeing the undercover video he said he took immediate action.
"Absolutely I was unaware. That's not how we want to do business," Hodgen said.
Hodgen said he has launched his own investigation and promises going forward that animals at the facility will be treated safely and humanely.
Quanah has just a handful of employees and Hodgen said he met with all of them Wednesday to make sure the treatment seen in the video is not occurring at the facility any more.
There are about 200 young calves in the buildings at Quanah's facility.