This is an archived article and the information in the article may be outdated. Please look at the time stamp on the story to see when it was last updated.
CENTENNIAL, Colo. -- The Arapahoe County Sheriff said Tuesday that accused Arapahoe High School shooter Karl Pierson planned to attack at least five different areas of the school.
While examining Pierson after the shooting, investigators discovered he had written five separate letters/numbers on his arm. The numbers correlated to the Library and other parts of the school and appear to show a plan of attack, said Sheriff Grayson Robinson in a statement.
Investigators are now trying to find out specifically why these areas were targeted.
The sheriff also said Tuesday that Pierson was armed with a .12-gauge pump action shotgun, three Molotov cocktails, a machete in a canvas and more than 25 rounds of assorted ammunition. He carried ammunition in two bandoliers that were worn across his chest and waist, Robinson said.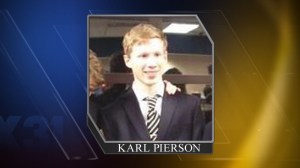 It's still believed that Pierson acted alone in the shooting, although Robinson said investigators were still looking into whether he may have received help.
The statement also included a more detailed timeline of the shooting. Robinson said Pierson entered the school at 12:33 p.m. through the north entrance.
He "immediately randomly fired the weapon upon entering the high school and then fired a second time, causing serious injury to 17-year-old Arapahoe High School student Claire Davis."
Pierson then fired three additional times without hitting anyone, Robinson said.  He then moved to the Library, which is where Pierson eventually killed himself, deputies said.
Robinson also released an additional detail about Pierson saying the teen had written a Latin phrase "Alea iacta est," which translates as "The Die Has Been Cast" on his forearm in marker.
Shooting victim remains in coma
Meanwhile Pierson's lone victim, Claire Davis, remains in the hospital in a coma.
Friends have organized a fundraiser for her this Friday at Varsity Inn.  According to a Facebook group about the fundraiser, "All donations will be sent to the Arapahoe Donation Fund for Claire Davis at First Bank."
The fundraiser runs from 7 p.m. till closing time.
Friends are also hoping to catch the attention of one of Claire's favorite bands One Direction. They have started a campaign on Twitter using the hashtag #get1DtoClaire to encourage the boy band to visit her.
Pierson's family 'devastated,' grieving for victim
Monday, Pierson's family released a statement saying they were "devastated" by the news of the shooting.
In a statement Barbara and Mark Pierson said, "We are shattered by the tragic events that took place on Friday at Arapahoe High School.  Our thoughts and prayers are with Claire Davis and her family.  They, and she, have suffered unimaginably, and we pray for her full recovery.  We also pray for the entire Arapahoe High School community, as we know your lives are forever changed by this horrific event."
"As parents, we loved our son Karl dearly and we are devastated by what happened Friday.  We cannot begin to understand why Karl did what he did.  We ask for privacy during this unthinkably difficult time and hope that you will respect our need for time to grieve," the statement said.