This is an archived article and the information in the article may be outdated. Please look at the time stamp on the story to see when it was last updated.
CENTENNIAL, Colo. — Karl Pierson, the 18-year-old student who attacked Arapahoe High School on Friday, intended to hurt many more people than just his one victim, Arapahoe County Sheriff Grayson Robinson said Saturday.
Apparently taking revenge for a punishment he received from debate coach Tracy Murphy in late September, Pierson arrived at the school about 12:30 p.m. Friday.
Armed with a pump-action shotgun, a bandoleer filled with ammunition, a machete and a backpack containing three Molotov cocktail-style explosives, the shooter parked his car along the curb in the student lot, then entered a door adjacent to the library on the north side of the building, Robinson said.
"It is our strong belief that he came to the school with that weapon and with multiple rounds … to cause harm to a large number of individuals," Robinson said. "His intent was evil."
The shotgun and ammunition were purchased legally at local retail stores, Robinson said. Pierson bought the gun on Dec. 6 and picked up the ammunition on his way to school Friday, police found.
Including the shot that killed him, the shooter fired six total rounds, three of them random blasts down hallways, Robinson said.
Early on, Pierson approached senior Claire Davis, 17, and shot her at close range, police said. In a statement read by Robinson, Davis's parents said that first responders and the trauma team at Littleton Adventist Hospital had saved her life, but that she remained in critical condition with severe head trauma.
"She needs your continued prayers," it said.
So far, police do not believe the two students knew each other, Robinson said.
"Claire Davis is a young woman of principle, and she is a young woman of purpose," Robinson said. "She is an innocent young lady and she was an innocent victim of an evil act of violence."
A friend sitting near Davis was covered in blood, prompting medics to take her to the hospital and list her as injured. It was later determined that she was not physically hurt.
Earlier, police had said Davis was 15 years old.
The shooter proceeded to the library, where he thought he would find the staff member he was targeting, Robinson said. However, a janitor initiated a lockdown and Murphy was able to escape as Pierson entered the room, investigators said.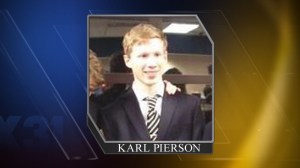 Robinson characterized the decision to leave as "tactically the most important decision he could have made." The staffers hoped the shooter would follow them away from the school, Robinson said.
Pierson then set off one of his explosives, filling the space with smoke and setting at least three bookcases ablaze, Robinson said.
An armed school resource officer was talking to school administrators down the hall from the library, police said. Upon hearing a commotion and, soon after, gunshots, the SRO and several other adults raced to the library, Robinson said.
Upon hearing the SRO enter, Pierson realized he was cornered, Robinson said. The shooter then reportedly turned his gun on himself.
"We believe that the response from the  school resource officer … was absolutely critical to the fact that we did not have additional injury and/or death in this particular matter," Robinson said.
The entire attack lasted about 80 seconds and was largely captured on security video, police said.
Police were investigating at least four possible crime scenes in connection with the attack. The suspect's car, found in the north student lot, was taken into custody, and his mother's home in Highlands Ranch was boarded shut by investigators Saturday.
So far, it appears that Pierson acted alone, Robinson said. The student reportedly made threats in September after an incident with a staff member related to the debate team, of which Pierson was a member.