This is an archived article and the information in the article may be outdated. Please look at the time stamp on the story to see when it was last updated.
LONGMONT, Colo. — Officials on Thursday released the 911 call that was made by 26-year-old Michelle Wilkins after she was stabbed by another woman in Longmont Wednesday. Wilkins said she answered a Craigslist ad for baby clothes.
The pregnant woman's baby was "removed" from her womb and she could be heard groggily telling a dispatcher the suspect, Dynel Lane, had cut her with a knife.
Wilkins can be heard barely conscious describing what happened.
"She cut me. … I'm pregnant," the woman said from the basement of Lane's home at 1620 Green Place.
The dispatcher repeatedly told the victim to not go to sleep and reassuring her that help was on the way.
LISTEN: 911 phone call from victim (Warning: Some listeners might be troubled by the call)

Officers described the scene in an arrest affidavit:
As police entered the basement, they noticed "a large amount of blood" and a trail of blood leading from a bedroom into a utility room. On the bed in the bedroom, police found the victim, bleeding heavily and intermittently conscious, according to the report. Police found a knife with a three-inch blade under the bed. Officers subsequently found several bloody towels in a washing machine.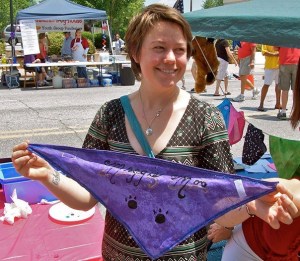 Examining the victim's cell phone and other evidence in the home, police developed probable cause that Lane, known to the victim only as "D," was a suspect.
While officers were at the home, the suspect's husband David Ridley arrived home. He stated that he had earlier planned to take his pregnant wife to a prenatal checkup appointment, but arrived to find her covered in blood. She told him she had suffered a miscarriage, and he subsequently found a baby laying in an upstairs bathtub, he told police.
The baby was still gasping at that time, Ridley told police. He and the suspect took the baby to the hospital, where it subsequently died. He had left the hospital to pick up his step-daughters from school, he said.
Lane's teenage daughters from a previous relationship also live in the home, police reported. The girls said their mother had told them she was pregnant with a boy, and had shown them ultrasound photos that seemed to back this up.
At the hospital, suspect Lane refused to let doctors examine her, but she did not have outward signs of having recently given birth, a surgeon told police. She eventually told Det. Stacey Graham that she stabbed the victim with the intention of removing her child, which Lane believed would have been viable, the affidavit states.
A doctor who cared for the victim said the incision on her abdomen was not random and appeared to have been performed by a person with some level of knowledge of performing a Cesarean section delivery.
Wilkins' family statement
Michelle Wilkins is expected to recover from her injuries. Her family released the following statement Thursday night.
"We want to thank the Longmont Public Safety Department and Boulder County Sheriff's Office for their tireless work and efforts. They represent Colorado's finest and we sincerely appreciate everything they have done.
We are grateful for the physicians and staff at Longmont United Hospital and the compassionate care they are providing. In addition, we are thankful for the outpouring of love and support from the local community and others who have expressed their condolences. We know you are grieving too, and we truly appreciate the support. In addition, we wish to extend a thank you to the media for your support over the past 24-hours.
Longmont first responders and the United Hospital staff saved our daughters life for which we will always be grateful. We grieve for the many victims of this senseless attack, but mostly for a precious child whose life was ended before she had a chance to live. Finally, we hope to have additional information tomorrow for those who have generously offered to support Michelle's recovery. Thank you.
Michelle is in critical but stable condition and resting comfortably.
We ask in this time of unimaginable sorrow, that the media and the public respect our need to grieve, recover and heal."
A vigil has been scheduled for Michelle and her baby on Sunday at Loomiller Park in Longmont at 8 p.m.