This is an archived article and the information in the article may be outdated. Please look at the time stamp on the story to see when it was last updated.
LAS VEGAS -- Investigators are releasing new information about the weapons that were used to kill nearly five dozen people at a concert in Las Vegas on Sunday night.
Twelve of the rifles the gunman used were outfitted with a bump stock, a device that would enable it to fire hundreds of rounds per minute, according to law enforcement officials.
More than 10 shots were fired every second during portions of the shooting.
Mel Bernstein, the owner of Dragonman Gun Store in Colorado Springs, is an expert on machine guns and analyzed pictures of the guns used in the shooting massacre.
"I have well over 200 machine guns in my name. That makes me the most armed man in America. Nobody has that many machine guns," he said.
Bernstein said one of the first things to catch his eye was a 100-round magazine on one of the semiautomatic rifles, an item not sold in gun stores.
"I've never seen this for sale. They actually made them for the military around the Vietnam era," Bernstein said.
He also detected a bump stock in one of the photos. The devices are legal to purchase and allow semiautomatic rifles to fire like fully automatic ones. They typically cost less than $100.
It's a device Bernstein sells in his store, but one he believes should be illegal because many people who purchase them don't know how to use them correctly without training.
"It makes me very unpopular to say, but I have to speak with my heart," he said.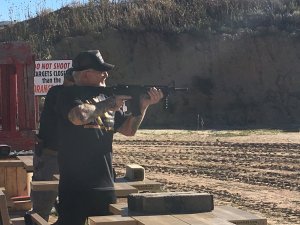 A total of 23 guns were found in Stephen Paddock's room at the Mandalay Bay Resort and Casino, everything from rifles to shotguns to pistols.
An additional 24 guns were also found on the gunman's properties in Mesquite, Nevada, and in Verdi, Nevada.
Investigators are still working to determine how many of them were used.