This is an archived article and the information in the article may be outdated. Please look at the time stamp on the story to see when it was last updated.
BRIGHTON, Colo. — A driver believed to be involved in three hit-and-runs in Weld County was involved in a fourth crash that shut down U.S. Highway 85 in Brighton on Sunday, the Weld County Sheriff's Office said.
At least two cars were involved in a crash at West Bromley Lane. Both cars had front-end damage.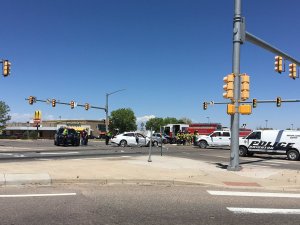 The sheriff's office said it first received reports of a hit-and-run crash in Garden City. Then it received reports of hit-and-run crashes in Platteville and Greeley before the crash on Highway 85 in Brighton.
Investigators did not confirmed whether anyone involved in the crash in Brighton needed medical attention.
The sheriff's office did not say whether the driver was taken into custody.