This is an archived article and the information in the article may be outdated. Please look at the time stamp on the story to see when it was last updated.
GLENWOOD SPRINGS, Colo. — A 24-mile stretch of Interstate 70 will remain closed possibly through the weekend because of damage caused by a rock slide in Glenwood Canyon, the Colorado Department of Transportation said Thursday.
The Colorado State Patrol said the slide caused major damage to the highway. CDOT closed the interstate between Exit 116 in Glenwood Springs and Exit 140 in Gypsum just after 10 p.m. Monday.
The closure came after the second slide of the day was reported in the same location (milemarker 124, west of Hanging Lake Tunnel). Earlier Monday, traffic was slowed in both directions after several boulders fell onto the highway.
Rocks were still coming down the hillside late Tuesday afternoon. Crews intended to open one lane on the eastbound side of the highway Thursday but that didn't happen due to inclement weather.
"This will consist of one pilot car leading traffic back in forth in that one lane," CDOT said in a news release. "This will last from several days up to a week as they continue to do rock mitigation."
When the pilot lane, CDOT says it may still be faster to take the detour because there will be significant delays of at least an hour plus and there will be periods when the pilot lane will be closed so that repair work can continue.
According to CDOT, crews worked until Tuesday evening, shutting down at dark for safety. Crews attempted to get some level of reopening late Thursday but didn't meet that goal because of the amount of rock in the corridor.
"Safety is our No. 1 priority," CDOT spokeswoman Amy Ford said.
The opening time and day of the highway is dependent on CDOT's ability to complete mitigation and clear the roadway. In an update Friday, CDOT said they hope to have the road opened by the end of Saturday, but progress has been hindered due to the weather.
"Because of the weather today, we could not fly a helicopter to bring airbags and tools to the rock face," CDOT deputy maintenance superintendent T. J. Blake said Thursday. "Crews had to haul everything up by hand and that set us back several hours."
As repairs progress, CDOT will move to open one lane in each direction. It could be several weeks before the damage to the roadway walls and roadway are repaired and the interstate is fully open to regular traffic operations.
A semitruck was caught in the second slide. All passenger vehicles were cleared out of the canyon on Monday night. No injuries were reported.
An alternate route for drivers is to take U.S. 40 through Steamboat Springs and Craig, a 203-mile drive that will add three hours to a regular trip between Wolcott to Rifle.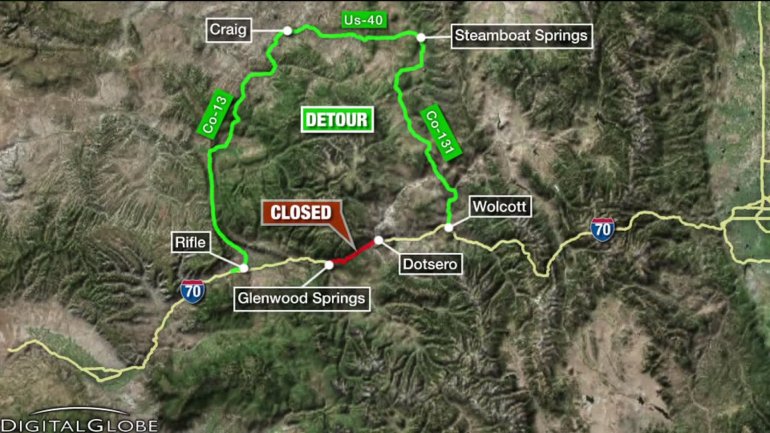 Cottonwood Pass and Independence Pass are closed because of winter, and Flying Pan Road is an unmaintained dirt road that is not advisable for travel during winter.
Bustang is terminating west service at Eagle instead of going all the way to Glenwood Springs. The schedule is the same, but ends at Eagle.
The estimated cost of repair is around 2 to 5 million dollars, according to CDOT.
For the most up-to-date info on the closure, you can visit CDOT's website.