This is an archived article and the information in the article may be outdated. Please look at the time stamp on the story to see when it was last updated.
CLEAR CREEK COUNTY, Colo. -- Rescuers were back in the Echo Lake area Tuesday  for third day in the search for two missing hikers from Minnesota.
The Clear Creek County Sheriff's Office and Alpine Rescue Team battled winds of more than 25 mph, on-and-off snow squalls and below-zero wind chill conditions at an elevation starting at 10,600 feet Monday in the search for Damian McManus, 51, and his son, Evan McManus, 18.
The weather improved Tuesday.
Additionally, the Salvation Army deployed personnel to help in the search. Besides supporting searchers with food and water, the Salvation Army also has an emotional care team on standby at the request of Clear Creek County.
"Our primary goal is to provide for the needs of search and rescue team members so that they may continue their work until this family is found," divisional leader Lt. Col. Dan Starrett said.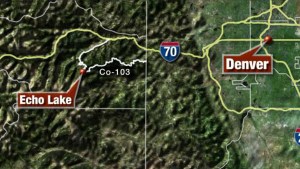 Search crews Monday included members of Summit County Search-And-Rescue and an Army National Guard Blackhawk helicopter from Buckley Air Force Base.
The search will pick up Tuesday at the Echo Lake Campgrounds area off Colorado Highway 103.
The wife and mother of the hikers, Katherine McManus, arrived in Denver on Monday. Katherine McManus and her daughter Lauren, Evan's twin, went to Mexico for spring break, while Damian and Evan McManus went to Colorado, KARE-TV in Minneapolis reported.
"We became really worried when we got off the plane from Mexico (Monday) afternoon and she still hadn't heard anything from Damian. We tried texting them and calling them and both of their phones were dead," family friend Andrea Bouzrara, who was on the Mexico trip, told KARE.
Bouzrara said Damian McManus has survival and orienteering skills from his military background in England.
The search began Sunday afternoon but was called off at sunset. The father and son were last seen in Lakewood on Wednesday and were supposed to return to Minnesota over the weekend. The last transaction on Damian McManus' credit card was for breakfast at a Lakewood Denny's on Wednesday morning, KARE reported.
Search and rescue teams say Echo Lake is a very large area with a number of trails. About two dozen people and a team in a helicopter are helping with the search. Buckley Air Force Base also pledged a helicopter for additional air support. Steep terrain and weather will pose a challenge.
Evan's girlfriend in Minnesota first alerted family members when she did not have contact with Evan after they had set out on the hike, KARE reported. The two had spoken numerous times during the trip up to that point.
A Facebook page has been set up in the search for the two.