This is an archived article and the information in the article may be outdated. Please look at the time stamp on the story to see when it was last updated.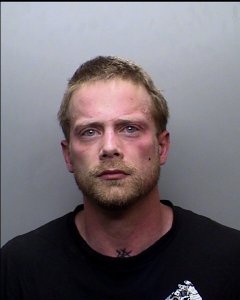 FORT COLLINS, Colo. -- A suspected armed man was still at large Friday morning after he sent deputies on a pursuit and caused a bomb scare at a Fort Collins condominium complex on Thursday night, the Larimer County Sheriff's Office said..
Deputies attempted to contact the known felon, 33-year-old Adam Fulford of Loveland, just before 7 p.m. Thursday at a Fort Collins condominium complex to arrest him for having several active warrants.
Fulford ran from deputies and evaded capture by K-9 tracking.
Residents of the condominium where Fulford was staying gave permission to have the residence searched. Officers with Fort Collins Police Services then found firearms and suspicious devices belonging to Fulford.
Residents in the building of the Scotch Pines Condominiums at 809 E. Drake Road were evacuated as a precaution and the bomb squad was brought in to investigate. The all-clear was given after midnight and residents were allowed to return home.
After Fulford evaded deputies, law enforcement saw a taxi leaving the area and followed it westbound on Drake Road. The taxi turned southbound on College Avenue and ran a red light, the sheriff's office said
Deputies continued to follow the taxi into Loveland, then westbound on Highway 34, northbound on North Larimer County Road 27 and eastbound on West Larimer County Road 38E.
Just after 8:30 p.m., the taxi reached Horsetooth Mountain Park, where the driver jumped out as the vehicle was still moving. The sheriff's office said the taxi driver had been shot in the leg.
Deputies rendered aid until paramedics could arrive. The taxi driver was taken to a hospital with nonlife-threatening injuries.
The sheriff's office said Fulford then crashed the taxi about 8:40 p.m. and ran from the scene. A perimeter was set up and roads were blocked around Horsetooth Reservoir, but Fulford was not found.
Emergency notifications were sent to 1,100 people advising them of the at-large suspect and that he was suspected to be armed.
The search was called off about 2:40 a.m., but sheriff's investigators said they will continue to follow leads until Fulford is taken into custody.
Fulford is described as being 6-foot-2 and weighing 225 pounds. He has a shaved head with blond hair and stubble facial hair.
Anyone with information is asked to call the sheriff's office at 970-416-1985 or Crime Stoppers at 970-221-6868.