This is an archived article and the information in the article may be outdated. Please look at the time stamp on the story to see when it was last updated.
DENVER — Thousands of people laced up their running shoes over the weekend to participate in the seventh annual Rock 'n' Roll Denver races.
The half-marathon started at Civic Center Park at 7:15 a.m. Sunday and coincided with a 10K race. A 5K race kicked off at 9 a.m. Saturday.
There was no full marathon this year after permitting issues forced race organizers to change the course.
The races are unique. For the duration of them, live bands, cheer teams and high-energy volunteers line the streets from start to finish.
The Rock 'n' Roll Marathon series started in 1998.
The loop courses sent runners through downtown Denver and past the Pepsi Center, Coors Field and the 16th Street Mall, then through several of the city's scenic parks before finishing back at Civic Center Park.
Runners were raced past live music and cheering crowds all over the course.
At the finish line, the Denver Outlaw Dancers, G. Love and Special Sauce performed.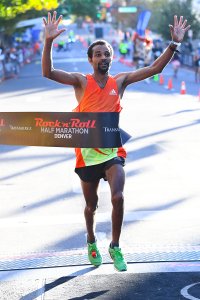 Ethiopian Gebrekidan Abadi, 32, who lives in the Denver area, won the race in 1:06:46, while Kenyan Elvin Kibet, 26, of Colorado Springs, won the women's division in 1:15:22 by edging out her twin sister, Valentine Kibet by 3 seconds.
Former Colorado School of Mines cross country runner Marty Andrie, 23, of Golden finished second overall but won the USATF Colorado half marathon championship with a 1:07:43 finish.
Emma Kenyon, a 28-year-old full-time pediatric nurse from Westminster was the women's state champion with a 1:25:36 effort.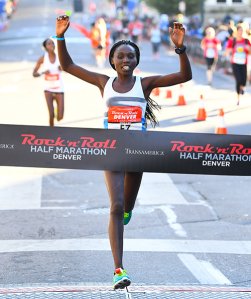 "It means a lot to me to win this race," Kenyon said. "I work full-time with three 12-hours shifts a week, so it can be time to find time to train consistently while I'm balancing a full-time job and life and racing. I really enjoy racing on my home turf and I wanted to get in a good race here. It was an amazing day for running."
A check for $25,000 was donated to the American Heart Association thanks to five special runners.
The Tomorrow Chasers started in the very back of the pack, and for each runner they passed, one dollar was donated by Transamerica.
Additionally, more than $75,000 was raised for St. Jude Children's Research Hospital through their team of St. Jude Heroes.