This is an archived article and the information in the article may be outdated. Please look at the time stamp on the story to see when it was last updated.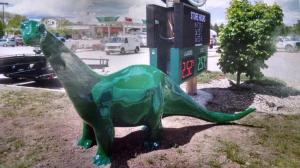 FORT COLLINS, Colo. — A baby brontosaurus dinosaur was kidnapped from a Jax Ranch and Home Store in Fort Collins last week.
The Sinclair icon was described as 15 feet long, green and heavy. The Larimer County Sheriff's Department is investigating the theft but so far investigators aren't revealing any details.
The value of the baby brontosaurus is not being disclosed, but the general manager of Jax Ranch and Home said the store is offering a $1,000 in-store credit to whoever facilitates the safe and undamaged return of Dino.
Any information or tips should go to the Larimer County Sheriff's Department.