This is an archived article and the information in the article may be outdated. Please look at the time stamp on the story to see when it was last updated.
DENVER — Billionaire Philip Anschutz, rumored to be a potential buyer for The Denver Post, is said to be considering options to restart the Rocky Mountain News.
According to the Denver Business Journal, Anschutz has prepared a prototype newspaper and is doing market research.
Given the economic reality that Colorado is struggling to support a single metropolitan daily newspaper, never mind two, Anschutz is likely looking to leverage  the threat of starting his own newspaper to bring down the price of the Post.
The Rocky was shut down in 2009 by the E.W. Scripps Corp., which currently owns KMGH-TV in Denver.
The newspaper had been publishing in Colorado for 150 years, but faced financial difficulty.  It was put up for sale in 2008, and even though a potential buyer was found, a deal was never reached and the newspaper shut down on Feb. 26 — less than two months shy of the paper's 150th birthday.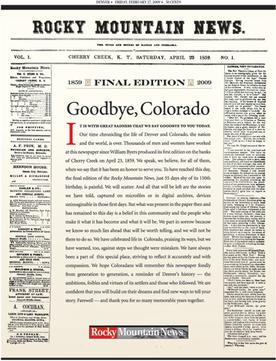 The closure of the Rocky, left The Denver Post as the only state-wide newspaper.
Digital First Media, the owner of the Post, has put the Post for sale.
Under the leadership of publisher and editor John Temple, the News had won four Pulitzer Prizes since 2000 including feature writing and feature photography.
After its closure, several former staffers tried to start an online newspaper called the Rocky Mountain Independent, but it closed after about six months.
The newspaper industry has been on the decline as competitors on cable news and online grabbed readers. Papers also lost a major source of income when Craigslist started offering classified-advertising.