This is an archived article and the information in the article may be outdated. Please look at the time stamp on the story to see when it was last updated.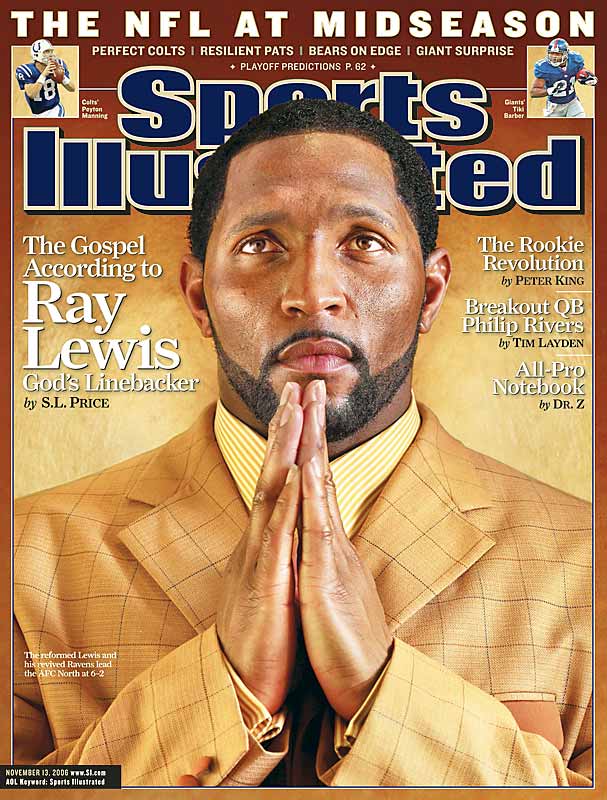 DENVER — Public advertisements for Ray Lewis' retirement parties have been popping up all over Denver this week.
It's been a lighthearted way to poke fun at the Hall of Fame career of the middle linebacker, which most locals (and Las Vegas) believe will come to an end today when his Baltimore Ravens meet the Denver Broncos in the AFC Divisional round today.
The families and friends of Richard Lollar and Jacinth "Shorty" Baker aren't laughing.
It's all they can do to choke back tears each and every time Lewis' name is mentioned.
It's been almost 13 years since Lollar and Baker were brutally stabbed to death outside of an Atlanta nightclub hours after the St. Louis Rams beat the Tennessee Titans 23-16 in Super Bowl XXXIV.
Lewis was there.
It's been almost 13 years, and Lewis is still unprepared to talk about how Baker's blood ended up in his limo, why he told that limo's passengers to "keep their mouths shut" and what happened to the white suit he was wearing that night.
Whoever it was that murdered Lollar and Baker, they're walking free. Some believe that person became lost in the legal system and the always-unquenchable quest for championships, which Lewis acquired a year later in 2001.
Lewis was one of three who were initially charged with the death of the two best friends. But he cut a deal with prosecutors, pleading out to obstruction of justice, a misdemeanor, in exchange for his testimony against his own friends Reginald Oakley and Joseph Sweeting.
He told the court that Sweeting purchased three knives from a sports goods store a day before Lollar and Baker were stabbed a total of eight times. Lewis also said Sweeting gave him a reason for purchasing the weapons a day before the fatal back-alley brawl.
"Every time they hit me, I hit them," Sweeting said, holding a knife in his hand while uttering those chilling words.
It wasn't enough to implicate either Sweeting or Oakley in the murders.
These days, Lewis isn't willing to talk about what happened 13 years ago. But he's perfectly prepared to get perturbed with you for even asking him about it.
"You want to talk to me about something that happened 13 years ago right now?" Lewis told USA Today on Thursday.
A year after the murders, Rick Reilly, one of Denver's favorite sons, asked Lewis the same question. The linebacker ignored him. Like countless athletes before him, Lewis refusal to speak with Reilly didn't prevent the "Sports Illustrated" columnist from finding someone who would.
"I still don't understand it," Lollar's former fiance Kellye Smith told Reilly. "I believe Ray Lewis played a definite part in Richard's death."
"To tell you the truth, I wish Ray Lewis were dead," Lollar's aunt Thomasaina Threatt added.
On Friday, Reilly spoke with us. The cold case still baffles him.
"According to a Fulton County jury, Richard Lollar and Shorty Baker are the two guys nobody killed," Reilly said. "Ray Lewis walked out of that courtroom with a misdemeanor on his record. He got a slap on the wrist from the NFL (a $250,000 fine and probation) and then walked straight into a Defensive Player of the Year award and a Super Bowl ring the next season.
"He got a second chance and he made the most of it. Give him credit for that. But what about Richard and Shorty? They'll never get a second chance. Who's fault is that?"
Whether the blame should or should not be placed on Lewis, one thing it clear: Over the past 13 years, the linebacker has managed to resuscitate his reputation — and then some.
Not only do most of his peers and fans seem to have forgiven him for what he may or may not have happened 13 years ago, he has become almost universally revered for the person he has become both on and off the field.
Lewis has found religion and hopes to preach when his football career comes to a close. If he accepts a promised offer from NFL commissioner Roger Goodell, he'll have to balance that second career with a third. According to USA Today, Goodell wants to employ Lewis as a special adviser because he's a "tremendous voice of reason."
So if today is the last day of Lewis' NFL career, what will his legacy be? Greatness or murder?
Ask that question of sports personalities in the FOX31 Denver newsroom and you'll get a host of varying answers.
"In my mind, Ray Lewis is a murderer," said reporter Jon Bowman, who also played college football. "He or someone who he was with committed murder that night. He never came out publicly and fully explained or took responsibility for what he did or what somebody else did for him or around him that night.
"When you think about someone's legacy as a human being, the things that Ray Lewis may have done in Atlanta that night are hard to get past."
Former sports director and current KWGN Daybreak anchor Tom Green used the same reasoning as Bowman. But he did so in order to get to a very different conclusion.
"It all depends on how broadly you view a person," Green said. "I tend to skew a little bit more towards Ray Lewis the football player when I think about his legacy. In order to play professional football, it requires an immense amount of intensity. I'll always remember Ray Lewis as one of the most intense athletes to ever play the game."
Sports reporter Raul Martinez tiptoed the difficult line that is Lewis' legacy as well as anyone.
"As his career comes to a close, people are trying to praise him. For good reason. He's a first ballot hall of famer," Martinez said. "But I don't think you can do that without at least mentioning what he was accused of doing.
"If his career does end on Saturday, I'd ask him about what he has accomplished on the field. But on Sunday, I think it would be perfectly acceptable to ask a question about what happened 13 years ago. How or is he going to deal with what he was accused of doing as his life moves forward?"
It's an interesting question. And its answer may truly come to define Ray Lewis' lasting legacy.
How will you remember Ray Lewis? Click here to tell us on Facebook.