This is an archived article and the information in the article may be outdated. Please look at the time stamp on the story to see when it was last updated.
COLORADO SPRINGS, Colo. — The Air Force Academy is investigating racial slurs written on a group of black cadet candidates' message boards at the preparatory school.
Five students found the slurs written on their dormitory message boards.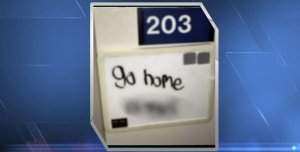 A parent posted a picture of the incident on her Facebook page.
The superintendent of the Academy, Lt. Gen. Jay Silveria, addressed cadets at the Air Force Academy Thursday.
He said, "There is absolutely no place in our Air Force for racism-it's not who we are, nor will we tolerate it in any shape or fashion."
The Academy's security forces are investigating the matter.
"I've said it before, the area of dignity and respect is my red line. Let me be clear. It won't be crossed without significant repercussions," Lt. Gen. Silveria said.