This is an archived article and the information in the article may be outdated. Please look at the time stamp on the story to see when it was last updated.
LONGMONT, Colo. — A man has been arrested in connection with the shooting and abandonment of a pit bull who was named Beefcakes by his rescuers, the Boulder County Sheriff's Office said Tuesday.
Russell Middleton, 38, was arrested Monday night and faces three felony charges and one misdemeanor charge in the shooting of the dog. The sheriff's office said numerous tips from the public aided in the arrest.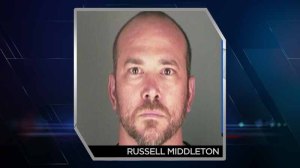 Middleton is charged with cruelty to animals, possession of weapons by a previous offender, violation of bail bond conditions and one count of violation of a protection order.
The dog was found by a person driving near U.S. 36 and St. Vrain Road on July 7. Witnesses told deputies said that a two-door, red pickup truck was seen driving away from a parking lot in the area where the dog was found seriously injured.
A bullet was lodged in the dog's jaw and his jaw bone was fractured in multiple locations, the sheriff's office wrote on Facebook. The deputies named the dog Beefcakes and he was taken to Aspen Meadow Veterinary Specialists for treatment.
The Longmont Humane Society started a Love Animals fund page to help provide the lifesaving surgery Beefcakes' needs.
"That bullet missed vital areas by millimeters," Rhea Moriarity with the humane society said. "His jaw is shattered and broken in several different places."