This is an archived article and the information in the article may be outdated. Please look at the time stamp on the story to see when it was last updated.
DENVER — Cesar Hernandez was charged with attempted murder for a double shooting he didn't do.
It has been one year since the shooting and a FOX31 Problem Solvers investigation reveals how witness misidentification can lead to a bad arrest.
Hernandez, 22 at the time of the shooting, sat in jail for six weeks, accused of shooting two strangers near South Federal Boulevard and West Mexico Avenue in Denver.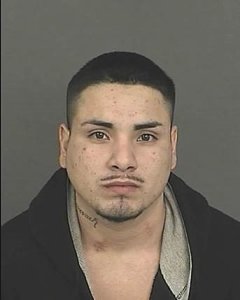 The double shooting on Dec. 11, 2015 was captured on apartment complex surveillance cameras.
The video recording shows a Hispanic man in a gray hoodie pointing a gun at two Hispanic men in a red truck.
The two men in the truck admitted they were drunk at the time. Minutes before they were shot, the two victims had been taunting the gunman's friend because the friend didn't have an extra cigarette.
That's when the gunman is seen walking into frame to defend his friend and shoots the two men before running away.
Michael Garcia was one of the men shot and told Denver police detectives he didn't know who shot him.
"That dude I don't know because he had that hoodie," Garcia said.
Garcia and his cousin Carlos Barraza-Tafoya told police they don't know who shot them, but police still had an excellent lead.
After reviewing more than 400 pages of police  reports, the Problem Solvers discovered the manager at the Brookhaven Apartments told police she saw a witness on surveillance video, most likely the gunman's friend smoking the cigarette, run into apartment 1688-A.
But police reports don't show that detectives ever followed up.
"I don't see how they missed that. I don't understand how they missed that at all," Hernandez said.
Instead, detectives focused on Hernandez after spotting him at the apartment complex a few days after the shooting. The lead detective would later note that he thought Hernandez's movements were similar to the suspect in the surveillance video.
"If I did something like that (shot two people), I would not come to the crime scene an hour after it just happened," Hernandez said.
But when Hernandez admitted being at the crime scene soon after the shooting, that only raised more suspicion from detectives.
At the time of the shooting, Hernandez said he was with his cousin driving to his ex-wife's apartment at the complex to drop off his daughter. It was his ex-wife's apartment that Barraza-Tafoya knocked on for help after he was shot.
Hernandez's ex-wife, Katherine Baca, told police she would take a lie detector test, insisting Hernandez hadn't arrived at her residence yet when she called 911 to report the double shooting.
But Hernandez said police never gave him a lie detector test or asked for his phone records to ping his location.
That would have allowed detectives to see if they could even place him at the shooting scene when the shots were fired. Instead, police put Hernandez in a photo lineup with five other men.
Twelve days after the shooting, both victims identified Hernandez as the person who shot them.
"The facial hair and his face makes No. 3 look like the shooter," Barraza Tafoya told police.
"His eyes give me the feeling deep down inside," Garcia said. "It's the eyes that I remember about the shooter, his eyes is all I remember."
"Memories aren't always clear," said Mary Dodge, a criminal law professor at the University of Colorado Denver.
Dodge said research shows relying solely on witness identification can lead police in the wrong direction.
"It's dangerous, it may be the first step, but they need to build the case from there," she said. "They need to have a lot more than one or two people saying that's the person."
Interviews make it clear the lead detective was relying on nothing more than the victims' identification of Hernandez to build his case.
Detective: The only person (the two victims) identified is you.
Hernandez:  Well it's not me. Do you have fingerprints, do you have the gun?
Detective: Just have the video of you?
Hernandez: There's no video of me because it wasn't me. There could be a thousand guys wearing a hoodie. Just because I'm wearing a hoodie?
Detective:  The guys who've been shot. They picked you out. Why did they pick out you?
Hernandez:  I don't know why they would pick out me. I have witnesses. I was with my cousin, I was driving when (the shooting) was going on.
Detective: I can't understand why they identified you, you know what I mean? Your picture was in (the photo lineup). They looked at all the pictures and they said …
Hernandez: Maybe I'm the closest looking to it. That's not me. Maybe I'm the closest looking. How does this happen? So I'm going to go down for something I promise I did not do? I promise on God, I did not do this.
Dodge said victims and witnesses often get suspect identification wrong.
"If there's a weapon involved, there's what we call weapon focus so if you have a gun and you're pointing it at me, I'm not looking at you, I'm looking at that gun,"  Dodge said.
After police interviewed Hernandez in January, he was booked on charges of attempted murder and first-degree assault. Hernandez spent six weeks in jail until his family came up with enough money to pay his bond and get him out on Feb. 22.
The next day, police were back at the Brookhaven complex but not for Hernandez. The SWAT team was called out because a man inside apartment 1688-A was  shooting up his girlfriend's apartment.
This time, police arrested 25-year-old Roberto Soria-Bravo. Soria-Bravo had already served six years for felony menacing with a weapon.
At the time, police reports revealed detectives were getting tips that Soria-Bravo was the real shooter seen in the gray hoodie on surveillance video in December.
In April, charges against Hernandez were dismissed.
"Detectives and prosecutors do the best they can with the information they have at the time, but the system we have isn't perfect," the Denver District Attorney's Office said in a statement. "When we get it wrong, we do owe that person an apology, and we extend our sincerest heartfelt apology to Mr. Hernandez and to his family."
"It's supposed to be innocent until proven guilty. It felt like I was guilty until proven innocent and I don't think that was right," Hernandez said.
He said the false arrest had negative consequences not just for him, but his mother.
She was evicted from her apartment after the SWAT team came looking to arrest her son a few weeks after the Dec. 11 shooting.
As for Soria-Bravo, he's never been arrested for the double shooting, only for shooting up his girlfriend's apartment.
He declined to discuss if he had anything to do with the double shooting. He was later arrested by agents for Immigration Customs and Enforcement.
Soria-Bravo is a Mexican national who had been deported for a felony conviction once before. In October, he pleaded guilty to re-entering the United States illegally and will be sentenced in January.
"Generally speaking, victim and eyewitness statements can play a critical role in identifying suspects and helping to establish probable cause for an arrest," the Denver Police Department said in a statement.
Police won't say if detectives showed Soria-Bravo's mug shot to the alleyway shooting victims.
But Hernandez wonders if his mug shot had been next to Soria-Bravo's in the photo lineup, who might the victims have chosen then?
"I still feel like I could be in prison. I could be going away for 48 years for something I didn't do. I was scared, everyday I was scared," Hernandez said.
Even though prosecutors acknowledge Hernandez was not the shooter, he is still being forced to pay $10 a month for an ankle monitor he had to wear while free on bond.
He owes $670.  His payment plan will take more than five years to pay off.