This is an archived article and the information in the article may be outdated. Please look at the time stamp on the story to see when it was last updated.
DENVER — A bystander who recently stepped forward with a video recording of Denver Police officers punching a drug suspect and then tripping his pregnant girlfriend during a violent arrest last August was in jail himself Thursday night.
An attorney familiar with Levi Frasier's arrest said that Denver Police stopped Frasier's truck on Thursday and arrested him for a "newly activated traffic warrant out of Park County, Colorado."
Records show the warrant is for failing to appear in court on two traffic tickets from several months ago, failing to show proof of insurance and lack of vehicle registration.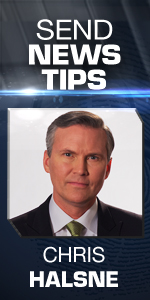 Frasier was reportedly arrested after leaving the FBI office and before he arrived at FOX31 Denver studios for a schedule interview.
Frasier was not allowed to bond out and was spending the night in jail.
We emailed DPD for a comment and other clarifications after hours.
Cmdr. Matt Murray replied, "I would check with the jail. They could provide the most accurate information about why Mr. Frasier is in jail."
Frasier is a key witness in an ongoing DPD internal affairs investigation. After recording an arrest on his electronic device, Frasier accused officers of seizing his Samsung tablet without a warrant and scrolling through his video files without permission.
Frasier reported that when the tablet was given back to him, the video was missing, but he restored it with a cloud application.
On Thursday, the Denver mayor's Citizen Oversight Board sent a letter to Chief Robert White, accusing DPD of "attacking the credibility of the witness who came forward" which "will only inhibit other members of the public from cooperating with DPD and IAB [Internal Affairs Bureau]  if they witness possible officer misconduct in the future."
In another encounter recently with police, the officer who was searching his car, turned off the recording, then resumed it to question him.
The updated video above explains if you can record police officers and what lawyers say your rights are.