This is an archived article and the information in the article may be outdated. Please look at the time stamp on the story to see when it was last updated.
DENVER — It seems like common sense during wildfire season, if you have a huge plane that can drop more than 19,000 gallons of water or fire retardant, why not use it?
As Colorado struggles with fires near Durango and Silverthorne, the nation's largest and most advanced aerial firefighting tanker sits on a runway in Colorado Springs.
The Global SuperTanker has no contract with the U.S. Forest Service to fly any missions in Colorado.
"The U.S. Forest Service, when they are tasked with a fire, they assume control of the airspace over that fire, referred to as the fire traffic area and because they control it, they have the ultimate say so in who enters it and under what conditions," said Bob Soelberg, senior vice president and program manager for Global SuperTanker.
Last year, the Global SuperTanker was used to fight fires in Chile and California and it has "call when needed" contracts with Colorado Springs, El Paso County and Douglas County, but not the Forest Service.
"The USDA Forest Service has been working with Global SuperTanker Services, LLC for several years to enable them to meet Interagency Airtanker Board and USDA Forest Service contract requirements for their 747 to fly wildfire suppression missions," public affairs specialist Jennifer Jones said in a statement.
The agency anticipates releasing requests for proposals by Friday that would allow it to use next generation air tankers, but it wouldn't be able to sign any contracts for at least 30  days.
That means mid-July is the soonest the Global SuperTanker could fly missions in Colorado, if it receives a contract.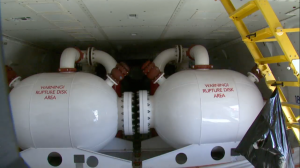 In May 2017, the Forest Service issued a solicitation for call when needed air tankers but added language that forbid the use of aerial tankers that held more than 5,000 gallons.
Global SuperTanker filed a protest with the Government Accountable Office and in November the GAO said the Forest Service failed to provide a reasonable justification for limiting the size of the air tanker retardant tank.
Currently, the Forest Service  said it has nine air tankers flying wildfire suppression missions in Colorado but none are anywhere near the size of the 19,200-gallon Global SuperTanker.