This is an archived article and the information in the article may be outdated. Please look at the time stamp on the story to see when it was last updated.
EDITOR'S NOTE: Many viewers and readers of this story are mistakenly connecting our investigation to heating and cooling companies that have absolutely nothing to do with our story.  Mile High Heating and Cooling in Westminster is at the center of our investigation.  Unfortunately, some people have connected  Colorado Heating Cooling Corporation and Mile High Heating and Cooling Inc. in Thornton to our investigation, both of which are not related to the Westminster company. Both companies have wrongly received backlash from the story below.   Colorado Heating Cooling Corporation is accredited by the Better Business Bureau and is currently rated with an "A+" from the BBB. In contrast, the company at the center of our investigation, Mile High Heating and Cooling in Westminster, currently has an "F" from the BBB.
DENVER — A FOX31 Denver hidden camera investigation captured a local business woman refusing to do business in a Denver neighborhood because she says the residents are "colored people" and "they don't pay their bills."
The Problem Solvers' Investigation started with a complaint from an employee at Mile High Heating and Cooling in Westminster who said the company did not service Montbello. The worker said, "They call it Mount Ghetto" and they don't do business there. Our hidden camera investigation found the worker's allegations to be true and that the company's policy about not serving what was once a prominently black neighborhood is talked about openly in their Westminster office.
The company's website claims to serve the entire metro area, but our investigation found Mile High Heating and Cooling does not serve one of Denver's largest neighborhoods.  The heating and cooling company advertised job openings for appointment setters so The FOX31 Problem Solvers sent a producer with hidden cameras in for the job.
"The sky is the limit on how much money you can make here. It really is …" Andrea, a manager at Mile High Heating and Cooling told our producer.
Andrea said, "You are being hired to set appointments."
Then she started teaching our producer how to make cold calls. She said, "Here's your Tuesday calls." Under the word Tuesday, the paper said, "Montbello 80239 'never call' which prompted our producer to ask why? Andrea replied, "Do you know anything about Montbello? …You don't live there do you? …We call it Mount Ghetto … um colored neighborhood."   Andrea went on to explain Mile High Heating and Cooling never cold calls Montbello because she claims the residents don't pay their bills.
If a Montbello resident calls Mile High Heating and Cooling for service, will they send a technician and a truck?
Long-time Montbello resident and home owner Pam Jiner made a call for a furnace check. Jiner said, "Can I schedule someone to come out please?"
The call taker asked, "… the zip code?" Jiner said, "80239." The employee told Jiner a scheduler would call her back within a few minutes. Then she waited. The Problem Solvers called Mile High Heating and Cooling again and asked for the same $49 service but for a different zip code.
We were connected to a dispatcher who booked an appointment immediately. Jiner never got a call back for service. "It blows my mind. It blows my mind. Who would do something like that? Single out a race and a community? It is racism, clearly, blatant out right racism." Jiner said.
Her neighbor, Army veteran Duane Topping agreed. Topping said, "Those stereotypes are born of ignorance. I've grown up with all of these people in this neighborhood, so this is a family. We don't care how much money you make, we don't' care what color you are, we don't care what religion you are."
RELATED: Company, community leaders respond to our report
ACLU's legal director Mark Silverstein watched our hidden camera video. He said race-based discrimination policies are against the law. Silverstein said, "There are local ordinances, there are statutes and there are even federal laws that forbid this kind of discrimination based on race."
We wanted to talk to Andrea, the manager who made the racist statements, but when she saw us coming she turned the other way.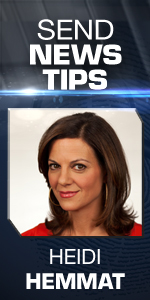 FOX31 Denver's Heidi Hemmat asked, "Andrea, we just want to ask you why you don't go to Montbello … we just want to know why you call it Mount Ghetto?" Andrea said, "Speak with the owner."
The company is owned by 21-year-old Kasey Dykman and his 48-year-old father Kevin Dykman.
The older Dykman's arrest record includes convictions for theft and DUI.
Mile High Heating and Cooling operates out of the first floor of an unmarked brick office building at 8671 Wolff Court in Westminster.
Our calls to the business were not returned, so we caught up with the Dykmans to get some answers.
Hemmat asked, "Is this company racist? Can you explain your company's policy on Montbello?" Neither Dykman would answer our questions. The company issued a statement Thursday afternoon in response to this story. It said owner Kevin Dykman was surprised and disappointed by the insensitive comments made by the employee in the video, but believes it was an isolated incident and not a reflection of the company.
"We pride ourselves on ensuring a positive and professional work environment for all employees, and our main focus is providing excellent service to our customers. Insensitive comments, or anything that goes against our culture of respect and inclusion, is simply not tolerated," Dykman said. You can read the full statement from the company here.
Meanwhile, Jiner had plenty to say about the company that never called her back. "Go to hell. Don't send me any more of your publications and how dare you."
The neighborhood just north of Interstate 70 is home to about 31,000 people. The community is mostly Hispanic residents and the average household income is $45,000, just $2,000 less than Denver's average household income of $47,000.
If you live in Montbello and were denied service by Mile High Heating and Cooling in Westminster, you can file a complaint with the Colorado Civil Rights Division.
Go to www.dora.colorado.gov – then click on Consumer Assistance (top menu) – then click on File a Complaint – then click on Civil Rights Division.
The complaint intake form can be downloaded, filled out and returned. You can find it online here.
Press conference and protest scheduled
City leaders held a press conference and protest at the following location at 2 p.m. Thursday, April 30.
Graham Memorial Church of God In Christ
5001 E. Thrill Pl. Denver
(Corner of 33rd Ave. and Elm St.)