This is an archived article and the information in the article may be outdated. Please look at the time stamp on the story to see when it was last updated.
DENVER — Tired of handling large amounts of cash, a growing number of Colorado marijuana dispensaries are taking a risk and accepting credit and debit cards from pot-buying customers.
This month, FOX31 Problem Solvers polled 78 state-licensed dispensaries and found 27 willing to accept Visa or MasterCard as payment.
In addition, 10 others reported to us they would allow use of a bank-issued debit card with a four-digit pin.
That's 47 percent of dispensaries offering to sell joints, edibles, and bulk marijuana through an electronic transaction.
Banking experts tell FOX31 Denver that's a surprisingly high number given that the electronic transactions could be considered illegal.
And because federal banking regulators consider providing credit to purchase marijuana an illegal activity, dispensaries are using a few financial tricks to stay off the radar.
We know because our team of Problem Solvers visited a number of those stores with a hidden camera and purchased marijuana products on credit. We did so in an attempt to further analyze how the transactions were being processed.
Getting a gram of Kandy Kush from the Sweet Leaf dispensary in Aurora was as simple as swiping a Visa card issued by Bank of America.
The receipt was stamped AJS Holdings LLC. That is the way it showed up on our bank statement as well.
The Colorado Secretary of State reports AJS Holdings is located in what turned out to be a residential house near a country club in Frederick, Colorado.
Our attempts to contact the registered agent of AJS and the occupier of that home were met with silence.
We encountered a similar situation after buying marijuana products at the Ball Park Holistic Dispensary in Denver. The receipt of that credit card transaction said "Indoor Garden Products."
FOX31 Denver found Indoor Garden Products registered at a house on Cherry Street in Denver, which is owned by Charles Denver Parks.
Parks has a license to operate the Ball Park Dispensary.
When FOX31 Denver investigative reporter Chris Halsne tracked down Parks to ask why his pot shop's name is not reflected on customers' credit card statements, Parks declined to explain. He told Halsne, "I think they'd shut our credit cards down in five minutes if we (talked)."
Barbara Walker, executive director of the Independent Bankers of Colorado, says the financial institutions which are allowing marijuana credit card transactions to be run through their systems are "taking a substantial risk."
She says "shadow-banking" and third-party providers are willing to provide credit card services to marijuana dispensaries because they get high fees that mirror the high risks.
"What we're seeing is layering. Essentially holding companies that are the ones that may have the direct banking relationship," Walker told FOX31 Denver. "None of them are going to have the name cannabis or pot or any kind of identifier in the name of the company that's actually being banked."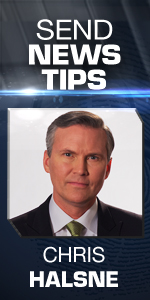 So why the shell game?
For starters, the vast majority of dispensary operators, banks, and credit unions we spoke with simply don't trust federal banking regulators will remain on the sidelines. The Drug Enforcement Agency may not be busting properly licensed pot shops in Colorado, but they continue to use bank audits to troll for money laundering.
And speaking of trolling, FOX31 Denver has learned that Visa reportedly runs its list of billions of transactions through computer matching programs for words like "marijuana," "MMJ," "dispensary" and "cannabis." In response to that activity, pot shops are hiring or setting up their own more generic sounding entities to run credit through.
Both MasterCard and Visa are telling customers they want banks (like Wells Fargo and Chase), which actually issue the cards, to monitor for illegal activities.
In a statement Visa sent to FOX31 Problem Solvers for this report, the company wrote, "Visa adheres to the rule of law and seeks to prevent our network from being used for unlawful purposes."
The email added, "…our local merchant acquirers are best suited to make any determination about potential illegality."
In response to our inquires about bank policies and weed purchases, Wells Fargo spokesperson Cristie Drumm wrote back to FOX31 Denver. "We have nothing to add to this story," she said.
JPMorgan Chase media representative, Maura Cordova, sent a statement that simply said, "I have to refer you to the credit card networks for comment."
Michael Elliott, executive director of the Marijuana Industry Group, calls the credit card business "a very unstable environment."
Elliot told Halsne, "We want stable bank accounts for the safety issues that are associated with a lot of cash and so we can have merchant services in checking so cash is taken out of the business, but everyone else should want solutions to this as well because banking accounts create transparency and accountability which are great ways to make sure all the taxes are being paid and that criminal organizations are not infiltrating the legitimate licensed businesses."
FOX31 Denver also met with a group of cannabis users at iBake Denver to discuss the credit card controversy.
All patrons there wished more places accepted bank cards for both for their personal convenience and for the welfare of the growing industry.
"Alfred" told Halsne, "We need to get business out of this gray area that they are in. They're making all this money and expected to pay taxes on it and they should be able to collect that money safely."
Other marijuana advocates, like "Dawn" says she understands why dispensary owners who are currently providing the credit option are fearful. "It's a risky business here in Colorado. One in which a lot of us fully believe in and that why we're involved in it, but (credit card transactions) are something that needs to be addressed. A lot of owners are taking their cash and putting it in different accounts because they have no other place to put it."
And one final note: FOX31 Problem Solvers tried in vain to get a definitive answer as to whether or not customers who buy marijuana with their credit cards are breaking the law. Several attorneys told us the legal risks to customers were extremely low. However, those same experts said that if certain banks flagged a transaction and tied it to an illegal sale, they would have reason to suspend the use of that card.