This is an archived article and the information in the article may be outdated. Please look at the time stamp on the story to see when it was last updated.
CENTENNIAL, Colo. — FOX 31 Denver has been inundated with phone calls and emails from people who say they too have been cheated by AAAA TV Electronics Repair and Vacuum, a store on Holly Street and County line road, that was at the center of an undercover investigation.
But the biggest revelation since our initial report, is what Investigative Reporter Heidi Hemmat has learned about the store owner's criminal past.
It turns out owner Muhammed Murib has been accused of fraud before.
We first introduced you to Murib, in a FOX31 investigation Monday night that revealed the store is charging people for parts they don't need.
Randall Simon was part of our original investigation, and is one of the alleged victims. "There's fraud going on there," he said.
Simon paid AAAA nearly $900 for a circuit board and an optical input on his amplifier. Parts, the amp's manufacturer confirmed, don't even exist.
A source inside the store provided Heidi Hemmat with Simon's repair ticket showing the only items replaced were two tubes for a cost of $40.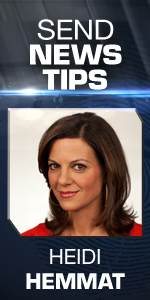 So we sent a FOX31 producer into the store with a hidden camera, and a brand new computer monitor with bad cable. Our producer was told she needed a circuit board for $129. But our inside source confirmed only the cable had been repaired for no charge.
Now we are hearing from more victims with strong allegations, all with similar stories.
But we have learned the allegations are familiar to Murib.
We obtained a 22-year-old mug shot of Murib after a viewer tip led us to a 1993 case filed by the Denver District Attorney.
At the time, Murib owned, "American Vacuum, Sewing and Typewriter." He was charged with 18 counts of consumer fraud, bait advertising, theft by deception and theft from the elderly and the handicapped for allegedly charging people for parts that were not replaced, just to name a few.
He was also charged with disposing of his customers' property if they refused to pay for unauthorized charges.
Murib pleaded guilty to theft.
Now he's back in business and accused of the same old tricks.
The Arapahoe County Sheriff's office has now launched an investigation and they want to hear form AAAA's alleged victims. You can contact them by calling 720-874-4020.