This is an archived article and the information in the article may be outdated. Please look at the time stamp on the story to see when it was last updated.
GOLDEN, Colo. — We've all heard the sound: That infuriating snap of rock, gravel and debris thrown at a vehicle by big-rig drivers.
Genesee resident Dick Shaw has had two windshields cracked in less than a year. Both times the incidents occurred along the same stretch of highway near the Morrison/Golden exit off Interstate 70.
"I try to avoid getting behind these trucks but you can't always do that," Shaw said. "It's not my fault that you were negligent with rocks in the back of your truck or rocks on some part of your truck when you hit a bump."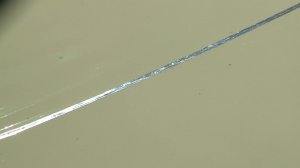 Shaw called the FOX31 Problem Solvers, fed up with a system that seems to make it nearly impossible to get anyone to pay for the damage or take blame for carelessly pinging rocks off his windshield.
Shaw couldn't identify the truck that cracked the glass on his SUV, saying the plate and sides of the offending rig were covered with mud. But he was able to snap some pictures the next time it occurred a few months later on another vehicle he owned.
Those pictures clearly show rock and debris sitting on edge of a Colorado Storage System truck's flatbed. Shaw said he called to complain and asked that company if it would pay the $500 in damage.
"They did basically apologized and gave me their insurance company," Shaw said.
Colorado Storage System's insurer, Nationwide, promptly denied the claim, saying "The rocks in questions were not being hauled by our insured" and "as the rocks hit the pavement and then your vehicle, this is considered a road hazard."
As it turns out, that is not the law in Colorado. According to the Colorado State Patrol, all drivers, with the exception of some hot asphalt trucks, must secure their loads and cover aggregate rock that is smaller than an inch with a tarp.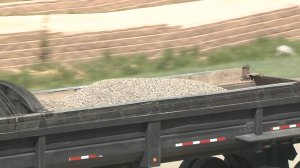 "If you're going to pick up a bunch of rocks and that rock spills out onto the roadway and breaks somebody else's windshield, private citizen to private citizen, you're still responsible for that load and for whatever comes out of that truck and hits or breaks somebody's window," trooper Nate Reid said.
He said troopers get calls every day about broken windshields caused by uncovered loads, but the agency does not officially track rock-windshield strikes.
It does document other road hazards caused by poorly secured loads.
In the 18 months, 298 reports of debris in the road around the Colfax Avenue, I-70 interchange near Golden were uncovered. Hazards included a surfboard, a large pile of laundry, a hot tub cover, ladders and a hay bale.
In visiting the area, it was easy to find the main source of a thick coating of small rocks on all the roads nearby. A Martin Marietta-owned quarry sits along Colfax Avenue in Golden.
We watched and recorded trucks peeling out, rocks bouncing onto the road behind them.
Most of the truckers get paid by the load, so time means money. That might be the reason many of them skip covering the mounds of loose rock and gravel inside their trailers. It's illegal and dangerous — but common.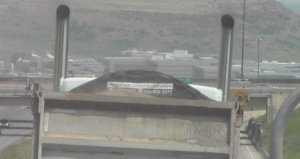 And what happens to all the other vehicles on the road traveling behind the unsecured loads?
With five cameras mounted to an SUV, a rock chipped a windshield in less than 30 seconds. Debris flew over four lanes of traffic with some smarter drivers pulling to the side.
The violator had Andrews Trucking of Commerce City on its door. We tried to track down the owner using public information listed on a trucking license database run by the Federal Motor Carrier Administration.
We visited the address listed on the Andrews Trucking license to discover it was fake. A man called after we left a card with a child at the alleged business. The man said the trucking company belonged to a relative who used his address but never lived there.
We also called Nationwide on Dick Shaw's behalf, not because the claim was denied, but for the reasons it was denied. Those reasons are not consistent with a black and white Colorado statute on responsibility.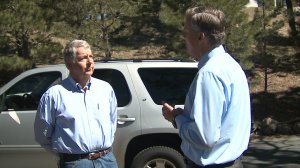 Nationwide emailed July 7 to say it was re-evaluating Shaw's denial, saying it was "having senior management examine the case."
On Wednesday, Nationwide changed its stance. Shaw said the company apologized for mishandling the claim and offered to pay for a new windshield and $581 in other damage to the paint of his car.
Also, a Martin Marietta spokesman said it does everything possible to get truckers to comply with tarping laws: Big warning signs, a special pull-off area and verbal warnings issued to offending rigs.
The spokesman said all truck drivers who work for it are required to tarp loads and go through training to learn the laws and policies of the quarry. But some of the trucks picking up aggregate material are independent operators.
When you get hit with gravel and want an investigation, the Colorado State Patrol often asks the reporting party to fill out an online accident form.
The Problem Solvers discovered nobody investigates any information filled out on that form. CSP said the report ends up at the Department of Motor Vehicles. A DMV spokesman confirmed that agency maintains the reports and does no investigative work.