This is an archived article and the information in the article may be outdated. Please look at the time stamp on the story to see when it was last updated.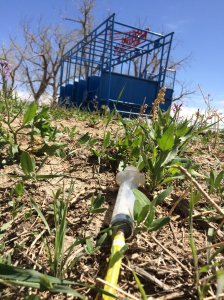 DEER TRAIL, Colo. — It's Easter outside the Deer Trail Rodeo grounds.
Armed teams of private security in flak jackets set up a roadblock searching passengers and vehicles. What they are looking for is unclear, but alcohol and beer are allowed to pass.
An Arapahoe County sheriff's deputy drove by slowly on the street outside the stadium but did not stop.
By early afternoon, approximately 500 spectators are lined up along metal railings near a long, manicured dirt track.
They were drawn here by an online advertising push from a company called Parejeras Racing USA.
A Spanish language flyer promised 10 "match races," with prize money in the thousands of dollars.
At first glance, the horse races looked much like the legal, sanctioned ones held at Colorado's only licensed horse race facility, Arapahoe Park in Aurora.
Jockeys, in colorful silks, mounted muscular quarter horses draped with matching blankets embossed with large numbers. Handlers helped guide the horses and riders to a metal starting gate.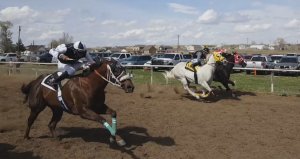 As the horses charged down the straightaway, it became apparent there were few rules.
Whipping of the animals was harsh and nearly nonstop.
In one race, a jockey veered his horse into another competitor. The high-speed ramming pushed the thundering beasts toward spectators standing within inches of the track, including children.
In two other races, jockeys lost their balance and went tumbling among the hoofs of other race horses.
The FOX31 Problem Solvers, working with knowledgeable insiders, acquired hidden-camera footage of not only the races, but all the activities happening just off the track.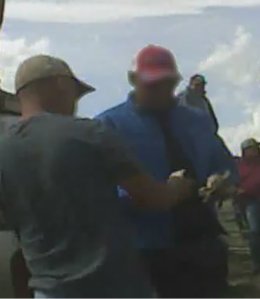 Audio and video recordings show plenty of cash being wagered on horses.
The largest bets appeared to be funneled through a "gamble broker" carrying a ledger.
Other brokers openly carried large wads of money in their hands, accepting and paying out bets.
They pitched their services in Spanish, with some accepting wagers as small as $5, but most bets were in the $50 range.
State regulators handcuffed by lack of 'statutory authority'
Gambling on horses is illegal, according to Ron Kammerzell, the senior director of enforcement for the Colorado Department of Revenue. His agency oversees some 1,400 pages of racing regulations.
"The race track and all the casinos we regulate are subject to IRS requirements, currency transaction reporting, suspicious activity reports filed with the U.S. Treasury," Kammerzell said. "And the concern there is with money laundering and activities that are incident to gambling itself."
Kammerzell's division also spends full-time resources to monitor racing at Arapahoe Park during its season, which starts Friday.
His agents drug test horses and jockeys, make certain the races aren't rigged, and focus on ensuring the safety of the equine athletes themselves.
"We're really looking out for those horses that can't speak for themselves, so we're looking out for them through our rules and regulations on how we protect them," Kammerzell said.
Kammerzell said the horse race organizers at the Deer Trail event, and a dozen other off-the-grid match races per year, don't ask the DOR for permission. They do the races in secret, without any oversight.
"Our authority kind of ends with the licensed industry — state and local law enforcement takes over when there's a potential of illegal activities," Kammerzell said. "That's really a policy issue. Whether it be the General Assembly or the evolution of the regulation over time — simply our statutory authority doesn't really allow us to get involved there."
The DOR said it would welcome changes in the current racing regulations, which would allow racing enforcement to watch over or disapprove match racing.
Banned drugs help horses run faster
Just before the start of the fourth race at Deer Trail, three witnesses working with the FOX31 investigative team noticed a group of men struggling to calm a horse, wrapping their arms around its neck.
In front of hidden cameras, one of the handlers pulled out a large syringe, marked for veterinary use only. It contained a brown liquid.
The substance or substances were injected into the horse's neck. Moments later, that horse entered the starting gate and raced.
An informant with detailed knowledge of the match-race industry described the liquid in the syringe as "typically a cocktail of stimulants" to ramp up the horse's heart — to get it to run faster.
After the races, a syringe and needle that still contained a small amount of a brown substance was found. There was no chain of custody after losing sight of the original syringe and needle.
However, based on eyewitness accounts and recordings, the set-up appeared similar, if not identical to the injection of the previous horse.
A prominent horse-doping lab tested the sample.
The results, at first, documented three drugs contained in the needle and syringe. More detailed analysis eventually identified two of the three substances.
One "compound could not be verified in any mass spectral data base."
The other two were a combination of caffeine and an equine anti-inflammatory/painkiller Flunixin.
Equine veterinarian Bruce Connelly likened Flunixin to the human nonsteroidal painkiller Toradol.
Connelly, who has sat on parimutuel race boards in the past, said both of the known drugs found in the setup are banned from legal races.
"That's what bothers me the most is that we don't have regulation and so the horse becomes disposable. That's what worries me," Connelly said.
He added the doping of horses, even in closely monitored events, still happens, but without any veterinarian oversight at the unsanctioned match races, the use of various performance-enhancing drug cocktails can go unchecked.
"I always have the concerns about what they are putting into these horses," Connelly said. "I've seen match-race horses run blind. Break themselves up because of stuff that was put in 'em that shouldn't have been.
"You've seen people on drugs. Their mind isn't right. They do things they wouldn't do on the drugs. Same thing happens to horses. They do things they wouldn't do on the drugs and that may well be detrimental to their health and their life."
Deer Trail mayor allowed unsanctioned races
Gambling, alleged doping, and mistreatment of horses might have been hidden inside the Deer Trail Rodeo grounds, but it seemed impossible that such a large event, widely advertised and attended by so many people, could go unnoticed by local politicians.
It turns out, they more than knew.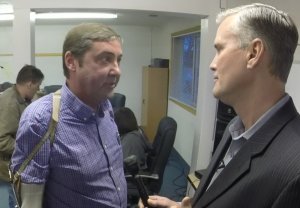 According to state records, Deer Trail Mayor Kent Vashus is the "registered agent" of the Deer Trail Jockey Club.
The Jockey Club is one of the oldest nonprofits in Colorado and owner of the rodeo grounds where the unsanctioned Easter races were held.
Vashus admitted he had allowed Parejares Racing USA to use the rodeo grounds for races in the past. Records show he approved at least 14 "Mexican Horse Races" in Deer Trail since 2015.
He canceled an on-camera interview, citing "advice of legal counsel."
But he was approached after a public Deer Trail Board of Trustees meeting to question him.
Vashus: No comment, friend.
Reporter: Come on. You're the mayor of this town.
Vashus: I am and it was an event held on private property, so it's not a town issue.
Reporter: You're also the president of the Jockey Club.
Vashus: I'm not the president of the Jockey Club.
Reporter: You're the register agent. (Mayor heads out the door.) You have something to do with this.
Vashus: I do.
Reporter: Both as a mayor and as a private citizen. Correct?
Vashus: Yeah. You ask anybody and I tried harder than anybody to try to get them to stop, so.
Reporter: So, are you going to put a stop to it?
Vashus: They're already done. I told you that on the phone. There's not going to be another in Deer Trail, Colorado.
Reporter: And why did you make that decision?
Vashus: Because of the stuff you brought to our attention.
During the town's public comment session, the rest of the Board of Trustees was informed of the findings, but none wanted to comment, including Judd Behrens,
Reporter: What do you know about it, if anything?
Behrens: I got no comment on it — no. no.
Reporter: From a town's image standpoint, is it good to have some of the illegal activities that we clearly saw going on in the middle of your town?
Behrens: No — but like I said, no comment. I don't feel like being on the news.
Parejeras Racing declined comment.
On May 21, the Greeley Tribune will report on on unsanctioned horse races in Weld County.
In early April, journalists from the Tribune were tipped about a race in the Fort Lupton area. FOX31 and the newspaper initially worked independently on different racing organizations and venues.
But because a number of common ties, the organizations began sharing information as it was confirmed.
A summary of what the Tribune will publish Sunday:
In Weld County, horse racing is a common occurrence. And many race organizers even take steps to obtain a temporary assembly permit from county commissioners. But an assembly permit from the county doesn't guarantee legal activity. After race organizers provide the necessary documents to get a permit, there's little to no oversight of actual race operations, something some insiders and advocates say paves the way for illegal gambling, mistreatment of horses and an unsafe environment for spectators.