This is an archived article and the information in the article may be outdated. Please look at the time stamp on the story to see when it was last updated.
DENVER — A FOX31 Denver hidden camera investigation reveals area scrap yards are buying cemetery plaques and vases despite a Colorado law that makes it illegal to buy grave markers.
A rise in this type of crime prompted Colorado lawmakers to pass a bill in 2014 that requires scrap dealers to ask for photo identification and a signature from the seller certifying the metal is not stolen. But the law is not enough to keep cemetery thieves from cashing in on the crime.
For Vera Boyd, it's hard enough to visit her mother's and sister's graves, but when she did she did not like what she found.
"I noticed a hole where the vase used to be," Boyd said.
Dozens of bronze headstone vases were stolen from the dearly departed.
"I was shocked. I couldn't believe it," Boyd said.
Grave robbers get paid
It's a crime committed by grave robbers across Colorado who sell the vases and plaques as scrap metal.
"Why would you do that? That's the only thing I could think of. I mean that is really stooping low," Boyd said.
Denver police accused Christopher Schoenberger of stooping that low. They arrested him after he tried to sell 361 pounds of chopped-up cemetery vases at a scrap metal yard.
We asked Schoenberger what is was like to steal from the dead, but he ran from our camera during a recent court appearance where he was sentenced to probation for the charge.
Area mortuary owners think thieves like Schoenberger are just part of the problem.
John Horan with Horan and McConaty Funeral Home blames workers at the scrap metal yards who are buying the markers and vases with no questions asked despite the law.
"If the criminal did not have a place to sell this material, then the criminal would not be stealing this material," Horan said. "It could not be more obvious. This is obviously something that came from a cemetery."
The Problem Solvers asked Horan for grave markers, plaques and vases and put four randomly selected metro area scrap metal yards to the test to see if anyone would buy the metal.
Undercover at scrap yards
First, we went undercover to Atlas Scrap Metal at 1100 Umatilla St. in Denver, but we didn't get far. A worker asked, "Is that you?" The Atlas employee not only asked us where we got our grave markers, he wanted proof from a cemetery that the markers belong to us. The worker said, "I need a letter."
We had a similar experience at Denver's Scrap Metal on Washington Street.
"We're going to have you talk to my boss about these because they're grave markers," a worker said. "Problem with these in the past. We've taken them and then they show up on the stolen list."
The worker then proceeded to take pictures of our markers.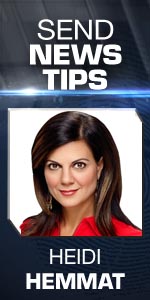 But that is not what happened when we took our cemetery cache to Wise Recycling on Chambers Road. A worker tossed the grave marker into a pile of scrap without giving it a second look. The cashier paid our undercover crew $10 for the metal.
"I just have these," a FOX31 Denver photographer told a worker as he held up a plaque to scrap at All Recycling North at 5350 Washington St.
One worker asked why we didn't have more markers.
"Is this all you have?" he said.
The worker took our marker and the hidden camera crew picked up $3.
We wanted to test Wise and All Recycle North again to see if we caught it on a bad day. So we returned with cemetery vases, the kind that Aurora police warned scrap metal places about earlier this year.
A worker asked, "What do you have?" Our crew held up a vase and the worker asked if it was "Metal?" But once again the worker failed to ask the right questions.
We asked general manager Maria Fay to explain why her yard was buying metal that appeared to be stolen from a cemetery.  FOX31 Denver's Heidi Hemmat said, "This looks like it came right off a headstone."
Fay: Yes, that's kind of obvious.
Hemmat: So this should be obvious?
Fay: Yes.
Hemmat:  Would it surprise you if I told you your yard paid for this?
Fay: Paid for this?
Fay said she has been on the job for a short time and the worker who accepted the vase no longer works there. Fay said Wise does not accept stolen property.
We wish we could say the same for All Recycling North, but the general manager refused to come out of his office and our calls to the corporate headquarters were not returned.
'It's Unbelievable'
Still, Horan believes the scrap yards that buy what was stolen from the dead should have to answer to people who find their loved one's grave without a marker or vase.
"It's unbelievable, really," Horan said.
Sen. Rollie Heath sponsored last year's bill that was intended to hold scrap metal yards accountable. The senator told FOX31 he would reach out to the metal theft task force to see if anything else can be done to solve this problem.