This is an archived article and the information in the article may be outdated. Please look at the time stamp on the story to see when it was last updated.
DENVER -- It took a few phone calls and emails to city officials from the Problem Solvers, but an abandoned truck with a tanker strapped to the trailer has finally been towed from a  Highlands neighborhood.  Residents had been complaining to the City of Denver for two months without results.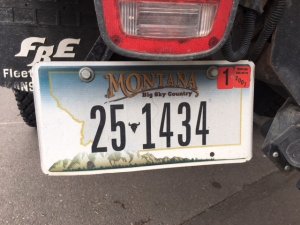 Neighbors say the mystery truck with Montana plates first appeared on the corner of 34th and Wyandot Street around Halloween.
"At first we thought it was associated with some of the construction in this block but then that doesn`t appear to be the case," explained neighbor Doug Shinkle.
He said after weeks of waiting, neighbors started hounding the city's abandoned vehicle hotline to get results. "Between the neighbors we`ve contacted the city parking line probably 10, 20, 30 times and their reasoning has been that they don`t have enough room in their impound lot for a vehicle of this size," said an incredulous Shinkle.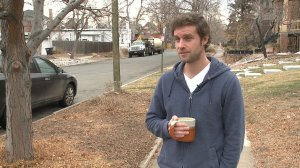 "My roommate called the police. I called the police a week later. My roommate called the police again. We haven`t heard anything back," a frustrated Evan Dannemiller told FOX31 reporter Rob Low.
The Problem Solvers obtained an email dated November 28 complaining to the city's 311 service about the abandoned vehicle and found a $75 parking ticket from December stuck in the driver's car handle.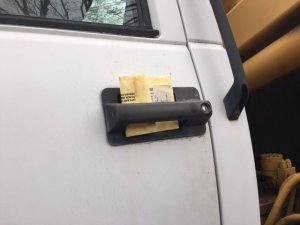 But apparently neither had any effect on getting the truck removed. FOX31 even called the state of Montana only to learn the plates associated with the truck hadn't been legally registered since 2007.
"Stolen and abandoned," is what Dannemiller guessed but added, "What is inside the tanker? The old "see something say something' and then nothing."
"Something like this, not to be responded to for that long, that`s not really acceptable," said neighbor Oakley Ogden, before adding a message for city offiicials, "Denver we love you, we love being here, you can do better, let`s show up for the people who live here."
The Problem Solvers initially contacted the Denver Sheriff's Department because it operates the city's Abandoned Vehicle Hotline and the city's impound lot.  That department passed Fox 31 to Denver Police, who passed us to the Public Works Department.  A few hours later Public Works sent a tow truck to finally remove the mystery truck and tanker.
A spokeswoman for the Denver Sheriff's Department would later explain deputies assigned to what's known as the Abandoned Vehicle Unit have been unable to tow the vehicle because the vendor it had been using to accept and dismantle large vehicles opted not to renew its contract in recent months.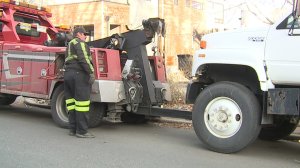 Until a new vendor is found to secure large vehicles, Denver Police will only hold large vehicles under criminal investigation because of spacing needs. The city has posted a Request for Proposal to secure a new vendor but hasn't received any bids. The city plans to send another revised RFP out in the coming weeks.
The Department of Public Safety released a statement that said in part, "We understand the frustration these type of unique occurrences can cause and remain committed to securing a vendor to assist with towing large abandoned vehicles that do not have a police hold or criminal consideration as soon as possible."
A deputy from the Madison County Sheriff's Office in Montana tells FOX31, he was able to reach the sister of the truck's owner.  She claims her brother lives about 90 miles outside of Denver and reported his truck stolen to Colorado State Patrol and has had no idea his truck had been abandoned in a Denver neighborhood for the past two months.
The Madison County Sheriff's Office tells FOX31 it's working to contact the truck's owner so that he can recover his stolen truck from Denver Public Works.