This is an archived article and the information in the article may be outdated. Please look at the time stamp on the story to see when it was last updated.
GOLDEN, Colo. — A couple in Golden are being sued by their next-door neighbor after they put up a fence to keep him off their property.
"Ridiculous, ridiculous this is our property, this is our home," Carol Liese said.
She claims her next-door neighbor, Dave Williams, made inappropriate remarks and advances toward her soon after she and her husband Keith Liese moved into their home at 627 Entrada Drive in 2013.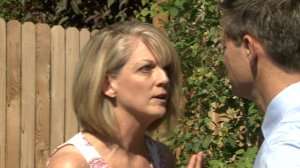 "Countless times I would turn around and he would be immediately behind me," Liese said, describing what it was like to garden in her front yard.
She said she hated going to her mailbox because Williams always seemed to know when she was there.
She's convinced it's because of a surveillance camera he has that appears to be pointed toward the mailbox.
"He'll come right out and stand as close to me as he can," said Liese, who went on to describe the encounters as "incredibly creepy."
When asked if Williams was the neighbor from hell, Keith Liese said, "Yes, no question about it. No question."
Especially because Williams sued the couple in August over a front-yard fence they built to keep him out.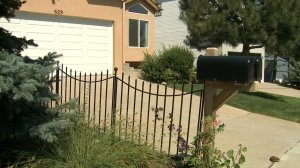 The lawsuit seeks what's known as a prescriptive easement for Williams, claiming the "easement has been the only pathway to move machines such as lawnmowers and other landscaping equipment to and from plaintiff's backyard."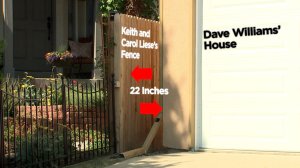 The lawsuit claims there is only 22 inches of space between the Lieses' fence and Williams' house, but it does not claim the fence was built on Williams' property.
In fact, the Lieses paid for a land survey that confirms the fence was built on their side of the property line.
And the Lieses add Williams still has five feet of space on the other side of his house to his neighbor on the north side where he can bring whatever he wants into his backyard.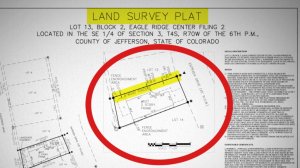 "We've spent so far about $18,000 in legal fees," Keith Liese said. "It's insanity. It's hard to believe that the legal system allows this type of case to go forward."
But under Colorado law, this type of case has succeeded before.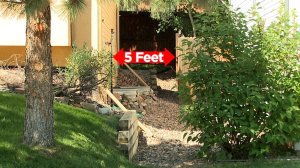 In 2007, a Boulder couple lost a high-profile case and eventually had to give 540 square feet (12 pecent of their property) to neighbors who claimed they had enjoyed unfettered access for 18 years to use the land as a pathway to their backyard.
Williams has lived at 629 Entrada Drive in Golden since 1997, thus meeting the 18-year legal threshold to at least seek a prescriptive easement.
The Lieses aren't the only neighbor to put up a boundary.
The neighbor to the north of Williams has a privacy curtain in her backyard to block a surveillance camera she believes Williams has pointed at her backyard,  a charge he denies.
"It's pointed toward my patio, 40-by-40-foot patio to see if there's somebody entering my home from the back of my house or the front of my house," Williams said.
"I'm not a bully and I'm not a spy. … I'm not a creep."
"He asked if he could take my picture at one point. He asked me if I really wanted to marry Keith," Carol Liese said.
When asked why he wanted to take Carol Liese's picture, Williams said, "It was just a thought."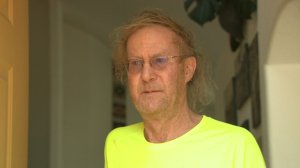 In a follow-up question, Williams was asked if he understood why Carol Liese might perceive his behavior as creepy.
"It's a yes or no question," he said.
Carol Liese said the answer in her mind, is definitely yes.
"He's a bully and he's obviously with his behavior being so inappropriate, yeah I would use the word creepy," she said.
The Lieses filed a motion to have the lawsuit dismissed but it was denied in May. The case is set for a two-day civil trial in Jefferson County Court beginning Thursday.