This is an archived article and the information in the article may be outdated. Please look at the time stamp on the story to see when it was last updated.
AURORA, Colo. — A mix of "kidnapping, torture and sex trafficking" is how 25-year old Lizi Mooney describes her three week ordeal in 2011.
Seven years later the Colorado survivor is finally able to share her memories as a naive teenager who hopped a bus near Colorado Springs and arrived in Denver's Civic Center Park just after New Year's 2011.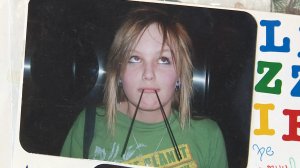 "I had tried most every drug about once … like most 18 year olds I thought I knew it all," said Mooney before adding, "I wanted to be free so I decided to just run away."
Mooney told FOX31 she knows in hindsight her decision to run away from parents who cared about her doesn't sound rational but explained she was an 18-year-old who had been sexually abused by a friend's father and had a history of substance abuse, so she wrongly assumed she could find a better life on her own. "For some reason I had this picture in my head of me with thousands of dollars."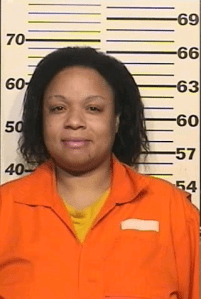 Lots of money is exactly what Mooney said she was promised by strangers she met at the McDonalds on the 16th Street Mall. Instead they took her to an apartment in Aurora where she met a woman named Misty Harris, who Aurora Police records show immediately turned Lizi Mooney into a slave.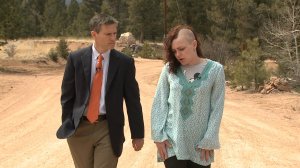 "Misty Harris took my cell phone, ID, she read out my address … 'if you try to run when you owe me money. I will kill your family,'" is what Mooney remembered Harris telling her.
Mooney said she was forced to live in a tiny two-bedroom apartment with five other adults and six children. "When I tried to leave out the door it was blocked … I was made to sleep on the floor. I was starved."
Lizi said she was forced to prostitute herself on Colfax Avenue and have sex three times a day with strangers for money that went straight to Misty Harris. She also was sold online through Backpage.com, a website the FBI shut down earlier this year and she was also forced to advertise her services through a phone service called Vibe Line.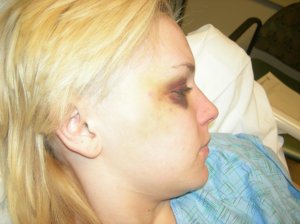 "Hi my name is Lizi. I`m blond, I'm 18 years old," is what Mooney remembers she was forced to say. "Apparently I didn`t say it sexy enough. We were sitting about as close as we are and she (Misty Harris) punched me in the face. She said say it again."
Mooney said she was forced to approach men at truck stops but said there is one thing that sticks with her more than the forced sex, "It`s almost like having sex with strangers wasn`t as bad as the abuse and absolute torture."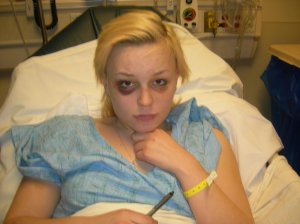 At one point she said Misty  Harris got so mad at her, Mooney was forced to roll naked in a dirt alleyway and when she was brought inside the apartment the abuse only got worse. "I licked my own blood and the dirt from the alley outside off the wall," remembers Mooney,  "And she was just laughing and having a fun time, everyone seemed to be having a fun time. I don`t see how anyone could enjoy that unless they are seriously mentally ill."
After three weeks, Mooney said she managed to escape and walked into a nearby convenience story where she asked the clerk to call police. Eventually in 2014, Misty Harris and two accomplices were convicted and sent to prison.
Adams County Judge Jill Ellyn Strauss called the case, "One of the most disturbing that I have dealt with in three decades because it was so incredibly cruel."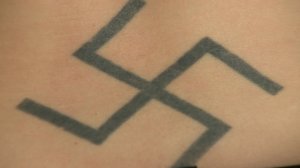 Lizi Mooney told FOX31 she struggled with drugs for another two years after her escape and even embraced racist beliefs getting a Swastika tattoo on her back because at the time she blamed all African-Americans for her torture and sex abuse.
"I think that I put that on the rest of the African-American race because I couldn`t put it right on Misty," said Mooney before explaining, "I was just so full of hate I couldn`t see the full picture and I`m still working on that."
Lizi would eventually meet her husband in rehab and said together they've stayed clean for five years. But she admits her history of addiction, cutting her arms with a razor and all the trauma she's endured will be a life-long struggle.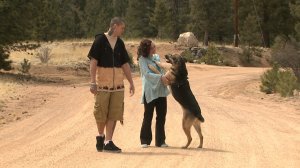 "Your story and telling police makes a huge difference," said Mooney who said it's important to encourage victims to  speak up.
Mooney hopes to write a book about her experience and recovery.
As for Misty Harris, she was sentenced to 12 years in prison for Pimping and Assault.  She had a parole hearing in June but the parole board denied her an early release.
The National Human Trafficking  Hotline is 1(888) 373-7888.
RELATED: Sarah's Home fundraiser benefits sex trafficking victims