This is an archived article and the information in the article may be outdated. Please look at the time stamp on the story to see when it was last updated.
PARKER, Colo. -- A victim of Sex Trafficking has decided to reclaim her humanity by rejecting a painful reminder of her past. More than seven years after getting a swastika tattoo on her lower back, Lizi Mooney has decided to have it covered up with the image of a tribal design.
We first told you about the 26-year-old Colorado woman in September when she decided to share her experience of being kidnapped in Aurora, Colorado and prostituted by her captors over a 3 week period in January of 2011.
Mooney says she may never forgive what her tormentors put her through at the age of 18, but she no longer blames the entire African-American race for what happened to her.
"Yeah it`s time for me to put this hate behind me," said Mooney after arriving at the Chromo Collective tattoo shop in Parker on a late October afternoon.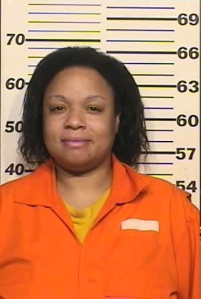 "It`s been my favorite tattoo but I think that`s because of all the hate I have towards Misty Harris specifically," said Mooney.  Misty Harris is the convicted sex trafficker, who with a few accomplices kept Lizi trapped in an Aurora apartment and forced  her to have sex with strangers to earn money for Harris.
"I just felt so helpless," is what Mooney told the Problem Solvers about the experience.  After 3 weeks, she was able to escape and told FOX1 she got the swastika tattoo almost as an act of defiance ... after repeatedly being beaten by Harris and others.
"Like I almost wanted people to be angry by it (Swastika tattoo) so I could tell them off, especially Black people," said Mooney.

Matt Hamlet is the tattoo artist who saw the story about Lizi's path to recovery and offered to cover up her swastika tattoo for free.
"I found her story quite courageous to come from that kind of environment, that kind of torment and to come out ahead and to realize her folly was not in an entire race but in an individual. I think that was a beautiful thing," said Hamlet, who is half-Jewish.
Five hours after he began, Hamlet had replaced the swastika with the tribal pattern that he said is inspired by many cultures. "If I help her relieve her hatred of the world or a specific group, then maybe she`ll move on and do the same for another human being," suggested Hamlet.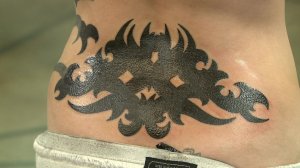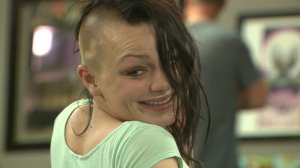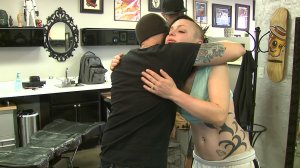 After looking at her new tattoo in the mirror, Mooney said to Hamlet, "I love it, can I give you a hug?"
The day after Lizi received her new tattoo she had a very unexpected but touching experience with an African-American woman and emailed Investigative Reporter Rob Low about it.  She's given us permission to share that email:
"Something really cool happened yesterday. I went to my Dr.'s office, just to pick up a hard copy of a prescription, and on my way out I stopped by the bathroom to rinse and clean my tattoo and put ointment on it. It was only me in the bathroom, and my shirt was up, so the tattoo was obviously noticeable. Anyways, I was the only person in there, and then this black lady walks in; she didn't go into a stall, just put her purse next to mine on the sink and started to rummage around in her purse for something. I apologized for my stuff being splayed out on the counter, and she said something along the lines of, "Oh, it's fine.. I like your tattoo, by the way." And I said, "Thank you...this is going to sound kind of weird, but I just got this tattoo; there was a swastika there before. I was a victim of human trafficking and the perpetrators were black, and I was so full of hate for such a long time, but I've finally said goodbye to it." And we were still the only people in the bathroom. Then, she said simply, "Oh honey, I'm so sorry that happened to you; we're not all bad." And she gave me a hug. Wow. What a powerful moment. I cried afterwards in the car; I believe in Jesus, and I think it was a God thing. I teared up even today as I recounted the story to my step-son Jake. It is a moment I will never forget. It was quite powerful."