This is an archived article and the information in the article may be outdated. Please look at the time stamp on the story to see when it was last updated.
FORT COLLINS, Colo. --  When a parent is sent overseas to serve our country, the entire family sacrifices.  Lexi Encina, 8, of Fort Collins knows just how hard it can be.
Her mom, Noelle Encina, is far from home right now, serving her country in the Army while stationed in Kuwait.
If only Lexi could talk to her right now.
"I would tell her I love her so much," Lexie told FOX 31.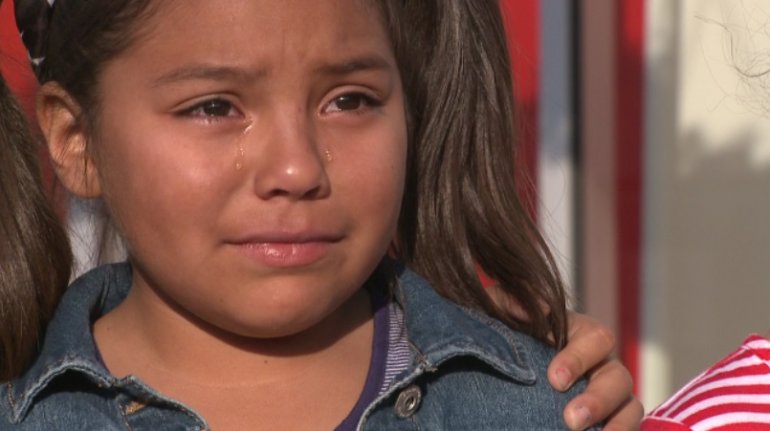 For Lexi's father Gabe Encina, it isn't easy either.  Taking care of their daughter, full time, while working and trying to keep everything together at home - while mom is 7,000 miles away.
"Seeing your son or your child make that big sacrifice and play mom or dad and everything else, it's just a very tough sacrifice," said Diane Encina, Gabe's mother.
Gabe definitely knows a thing or two about sacrifice.  He served our country for five years in the Army too.  It taught him a lot.  But there are some things about raising a daughter, he's had to learn on his own.
"Dad has learned how to do hair, how to cook, how to clean the house, and he's doing a great job," their neighbor, Lisa Cheney, told FOX 31.
When Cheney nominated the Encina family to be the FOX 31 Problem Solvers Serving Those Who Serve Heroes of the Month, we couldn't agree more.  And we couldn't wait to deliver the surprise.  The family also gets a $250 gift card from our Serving Those Who Serve sponsor, DCP Midstream.
Gabe plans to use it to take Lexi on a daddy-daughter date night.
"This really means a lot to us," Gabe told FOX 31.
The next few months be easy - with mom so far away.  Because those wearing a uniform aren't the only ones who pay the price in a military family.  Lexi isn't scheduled to see her mom again until January.  But that's right around Lexi's birthday.  And she can't think of a better present.
"It's pretty hard without her," Lexi told FOX 31.
You can help us find and honor our next Hero of the Month.  Click here to nominate someone you know.  If it's an active duty service member, a veteran, a military family, a volunteer - anyone worthy of this honor - we want to hear from you.