This is an archived article and the information in the article may be outdated. Please look at the time stamp on the story to see when it was last updated.
DENVER — Betsy and Emily Nunez grew up in a military family. Their father was an officer in the U.S. Army for 30 years and taught at West Point.
Emily got the idea for their company while she was serving as an Army captain, including time with the Fort Carson-based 10th Special Forces.
Now, they turn military surplus items into a variety of products for women and men — from classy handbags to leather dog collars to brass money clips.
"I thought how awesome would it be to use really durable military fabric and turn it in to bags and accessories that people would use," Emily Nunez Cavness said.
"As she told me more elements of her idea and what this could be, I was just so excited," said her sister, Betsy Nunez.
They founded Sword & Plough in Denver using Kickstarter.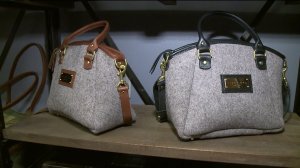 "How great would it be to empower veteran employment from every stage," Nunez Cavness said she thought. "From design to manufacturing to fulfillment."
They donate 10 percent of their profits to military organizations. They also work with U.S. manufacturers who also hire vets throughout the process of making and selling their products.
"Our mission is to empower veteran employment reduce waste and strengthen civil military," Betsy Nunez said.
Nunez Cavness saw that need while still in the service.
"I also learned more about challenges around veteran unemployment and that really stuck with me because it really seemed like such an injustice," she said.
Competing with hundreds of other small businesses nationwide, they were named the grand prize winners by FedEx of $32,000 in cash and materials to expand their work.
Since they started in 2013, they've helped get 65 veterans hired and recycled 35,000 pounds of military materials.
They also hire military spouses and family to help with the marketing and distributing their merchandise.
"With our brand, we're trying to communicate that, in addition to that veterans are incredible assets to communities, that all of their skills and leadership easily transcends into the civilian workforce," Betsy Nunez said.
It's a workforce that two military sisters hope to grow.
Sword & Plough can be found on Twitter and Facebook.