This is an archived article and the information in the article may be outdated. Please look at the time stamp on the story to see when it was last updated.
JEFFERSON COUNTY, Colo. — FOX31 cameras rolled this week as dozens of parakeets, purged from a closed wildlife animal exhibit, changed hands in a parking lot across the street from the Southwest Plaza mall.
It's causing even more trouble for the already troubled SeaQuest-Littleton.
FOX31 first reported two weeks ago that inspectors from the Colorado Department of Agriculture ordered SeaQuest to shut down its interactive aviary.
According to public records, that demand came after inspectors found repeat violations which were endangering birds.
Now, FOX31 Problem Solvers have discovered what happened to all those birds that could no longer be displayed.
When Ag inspectors issued a cease and desist July 23, SeaQuest only had 24 hours to move about 80 parakeets out of its new mall location. State orders told the company it had to reduce the bird population to 30 or less.
According to a spokesperson for SeaQuest Aquariums, contacted Tuesday by FOX31, the company tried and failed to find a sanctuary which would accept the animals.
Under a deadline, SeaQuest now admits it had the birds transferred out of the facility and into the hands of teenage employee. That under-aged employee appears to have kept them inside his father's garage.
Over the weekend a Facebook ad appeared showing cages full of parakeets offered free to anyone who could provide a good home.
FOX31 traced that post back to Joe Rice, a former Colorado State Representative and the former mayor of Glendale.
According to multiple sources, Rice's high school-aged son works at SeaQuest-Littleton.
Once FOX31 discovered Rice's son was setting up repeated exchanges of the birds with Facebook ad respondents in a Lowe's hardware store parking lot near the mall, the investigative team started recording those exchanges on video.
In the video, the teenager and his mother were handing out parakeets and cages from the back of a van or SUV.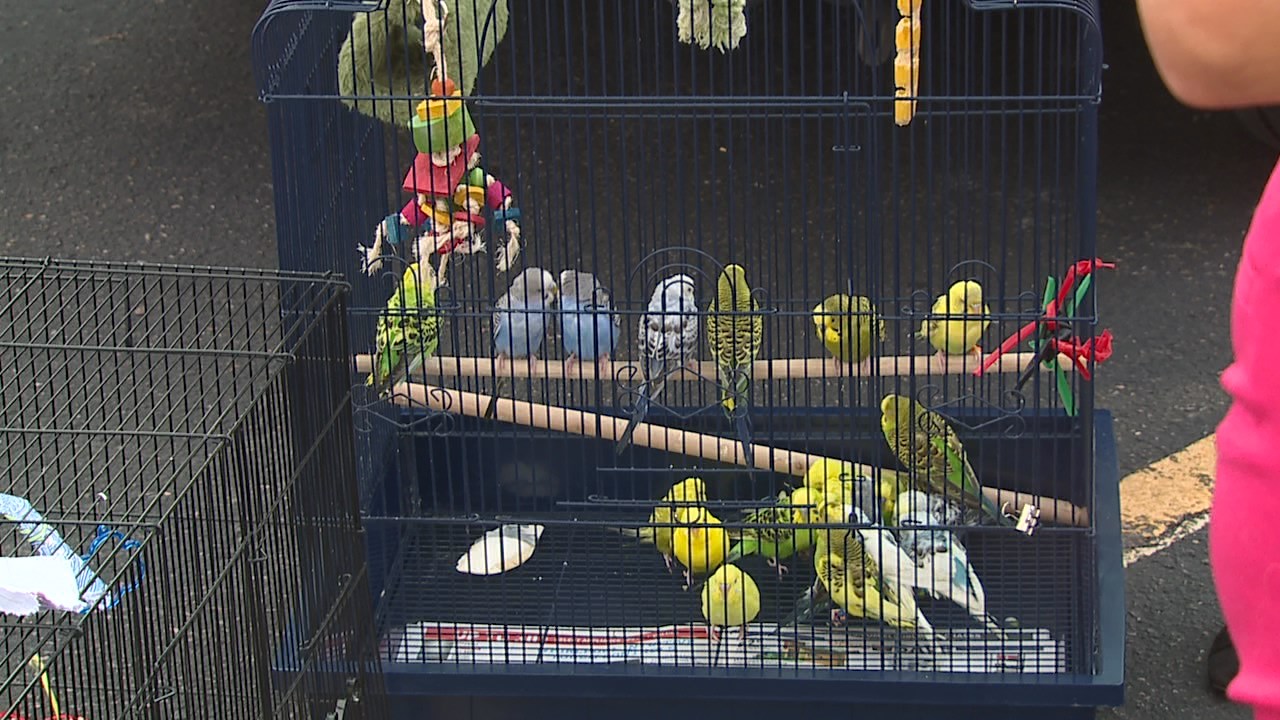 We approached to find out what was going on.
The teenager told us the parakeets were not from SeaQuest stating, "No. These are my friend's birds, but I have no comment to talk to the news." He added, "Not affiliated. Not SeaQuest. We are not."
The boy's mother told our crews to "please turn the camera off. You do not have permission to be viewing my minor child."
After that exchange, SeaQuest Interactive Aquariums confirmed it had sent the birds home with an employee, under "adult supervision."
In a series of statements sent to FOX31, the company wrote:
"As per PACFA's request, the parakeets were removed immediately from our facility. Originally, we had looked into donating the birds to local sanctuaries, however they were all at capacity and unable to accept the birds. The birds were then taken to a safe, temporary location with proper adult supervision. As the care and welfare of all our animals is top priority, we made it our mission to find these birds happy, healthy and safe permanent homes. We are pleased to report that all birds have been adopted. With each adoption, we [SeaQuest] included complimentary supplies, food and enclosures, as well as directions on how to properly care for the birds long term"
Former politician, Rice, called the FOX31 Problem Solvers to explain how he and his son got caught up in helping SeaQuest broker away these birds.
Rice left a message that said in part, " … So our public involvement is limited to finding good homes for birds who need them. The questions you asked are legitimate, but they are not questions for us. My son is just trying to be part of the solution and the other stuff is for others. As far as parents we are here for our son. I hope you recognize the fact that you are dealing with a teenager. A boy who stepped up and is just trying to make the world a better place. He's part of the solution not the controversy."
SeaQuest didn't directly answer FOX31 questions about how they expected a teenager to properly screen safe homes for the parakeets, but the company did forward pictures of some of the birds in what they call their "new, happy environments."
The Colorado Department of Agriculture on Tuesday confirmed it had opened yet another investigation into SeaQuest directly related to the events discovered by FOX31. Officials declined to comment further, but provided a statement:
"The Colorado Department of Agriculture's pet care program received a complaint regarding this issue on August 7, 2018. It is currently an open investigation and we are looking into the matter. If any violations of PACFA regulations have occurred, the Department will take the appropriate action."
Related: Full coverage of the SeaQuest investigation