This is an archived article and the information in the article may be outdated. Please look at the time stamp on the story to see when it was last updated.
DENVER -- A series of giant boulders placed along a scenic byway to block parking by recreational enthusiasts and nature lovers might have to be removed after FOX31 Problem Solvers identified a public safety concern.
About two months ago, hundreds of parking spaces in Bear Creek Canyon, along Highway 74 between Morrison and Evergreen, were torn up, bringing in a number of citizen complaints about safety.
The added barriers cut off access to large pullouts and smooth dirt lots, but left enough room for vehicles to continue to park in spots next to Highway 74.
FOX31 Problem Solvers and investigative reporter Chris Halsne made some calls to find out who blocked six popular parking areas carved into various areas.
It turns out, although located in Jefferson County, the City of Denver is the agency that did the work. There is a big problem though: No permits, permission or safety studies were found in advance of the decision.
In fact, when FOX31 Denver asked the Colorado Department of Transportation about the possible dangers of the newly created narrow space between speeding cars and Highway 74, CDOT responded "What rocks?"
For years the lots above Bear Creek have been a safe place to park for raptor watch volunteers such as Niki Sims. She goes up the canyon to keep an eye on a golden eagle nest at the top of Bear Creek Canyon .
Sims was forced to park her car within inches of speeding cars and cyclists along a blind corner.
"They used to not have these boulders here so it's a lot harder to park and turn around safely," she said.
Christine Lyter lives, works and enjoys the vast open park spaces around Evergreen. When she called the state to complain about its decision to cut off access to parking, she told FOX31 Problem Solvers nobody had answers.
"It's not going to be a very safe situation for people coming up and down the canyon because people will be parking in bad areas and running across the streets on a lot of blind corners," Lyter said.
Friends Hailey Wright and Brittany Seeley love to walk along Bear Creek. They too were upset when their favorite spots became more difficult to access.
"We don't understand why the boulders have to be here," Seeley said. "People could park along the edge and a lot of cars could fit here and now not a lot can fit at all."
Added Wright: "Someone could easily turn this corner and hit you and if this gets filled up – where are other people going to park?"
Denver City Parks owns some of the land along Highway 74. Spokesman Jeff Green said the spots were always "no-parking" areas, but rangers had not been actively issuing citations or fines.
"Over time it's become a nuisance with people parking along that stretch of the highway -- people doing dangerous activity that we're trying to deter them from," he said. "There are parking areas for the park a little further down the road so, the solution is: we have rocks in the park. We put them along that stretch of road. Well off the shoulder and hoping that goes toward people not parking there."
But after inquiries, Green admitted there was a problem with the decision. The city did not get the proper authorization from CDOT.
"I think there was some lack of communication there. Our crews that placed the boulders there had the best of intentions. I think they thought they spoke to the right people but didn't," Green said.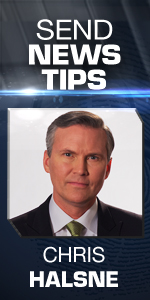 Halsne asked CDOT spokeswoman Amy Ford about the mixup.
"We need to make sure we're better collaborated on this, which we are doing now, and thanks to your report highlighting it for us, we're having those discussions," Ford said.
While the agencies work out a compromise, Denver City Parks remains committed to a "no parking" policy on pullouts or widened shoulders.
Lyter thinks prohibiting citizens from safely and conveniently enjoying the wilderness area and all its beauty (especially without any hearing or input from park users) is wrong.
"I'm also wondering why our tax dollars are being put into something to block our access and how much it's going to cost to remove it? We certainly didn't get a choice in the matter," Lyter said.
CDOT said the boulders are going to have to be moved farther back from the highway but had yet decided if the barriers were going to have to be removed entirely.