This is an archived article and the information in the article may be outdated. Please look at the time stamp on the story to see when it was last updated.
DENVER — A Centennial retail TV and repair shop is accused of charging customers for unnecessary repairs that increase their bills sometimes by hundreds of dollars.
Dozens of Colorado residents have filed complaints with the Better Business Bureau against AAAA TV Electronics and Vacuum.  Some of the alleged victims reached out to FOX31 Denver's investigative team for help, so we decided to check out the allegations for ourselves.
Investigative reporter Heidi Hemmat said, "We wanted to ask you some questions." Muhammed Murib refused to talk to us about the allegations against his business.
Instead he shoved our photographer and said, "You're in my way. Get out of my way."
Murib owns the shop that sells new electronics and claims to fix used items. The Better Business Bureau gives the shop a "D" rating because of 77 complaints against it in the past three years from angry customers who used words like "scammed, price gouged and fraud" when they wrote complaints.
Customer Randall Simon is one of the alleged victims. Simon said, "Nobody likes to be duped."  He filed a complaint with the Arapahoe County District Attorney's Office.  Simon said, "There's fraud going on there."
Simon authorized "AAAA" to fix a humming sound in his Viva tube amplifier. When he picked up the amp, he got this handwritten receipt with a list of repairs and a bill for $889.
Among the items allegedly repaired was the "main circuitry board" and "the optical input" had been repaired, serviced or rebuilt.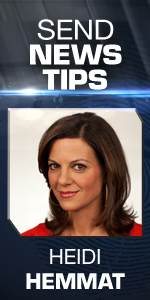 Simon said, "A little red flag when off in my head."
That little red flag become much bigger when he fired up the amp at home and it still had the same humming sound. "At that point I lost all confidence. I knew I had been lied to," Simon said.
He contacted the amp's manufacturer and received an alarming response that said there is no main circuitry board or optical input in the amp and that they do not exist.
Simon said, "First they speak of main circuitry board, Viva audio amplifiers do not use circuit boards. They also refer to the optical input. The amp has no optical input."
A source provided FOX31 Denver with a screen grab of Simon's repair ticket which shows a work order for two tubes that cost $40. Simon said, "It's pretty blatant fraud."
We wanted to know how the repair shop would treat us, so we sent a FOX31 Denver producer into the store with a hidden camera and a brand new computer monitor.
TV engineers tested it to make sure it worked and then bent a pin in a cable to make the color look wrong.
Before a AAAA tech could even examine the monitor, our hidden camera captured a sales employee who prepared us for the worst. The salesperson said, "More than likely you are having problems internally with the circuit…"
When we picked up our monitor, we received a long list of repairs with check marks by everything that had allegedly been fixed. There were 36 marks in all for everything from hairline cracks to buttons to the main board.
When we asked about the checklist, the salesperson said, "If it's checked, it's been repaired or replaced."
But, that's not the case according to our inside source who sent us a screen grab of our repair ticket. The screen grab shows no parts being replaced and only one repair to the bent pin on the cable which the tech noted he straightened out for "No Charge."
We requested an on-camera interview with the store's owner Muhammed Murib, but instead we received an email that said, "It's unfortunate we are putting the emphasis on 77 transactions out of 70,000."
The statement came with a copy of their disclosure statement, which is printed on their receipts and says, "Customers must provide a minimum of 1-3 says notice before picking up their item."  The statement from Murib also said, The complaints we have received primarily address this issue."
But, their statement failed to address our questions which brings us back to where we began.
Hemmat asked, "Sir, are you charging people for unnecessary repairs?" Murib did not answer.
The Arapahoe County District Attorney's office is now investigating, if you feel you are the victim of consumer fraud at AAAA, call the Arapahoe County Sheriff's office tip line number at 720-874-4020.