This is an archived article and the information in the article may be outdated. Please look at the time stamp on the story to see when it was last updated.
AURORA, Colo. — A FOX31 Problem Solvers investigation discovered Aurora Police Department employee Charles DeShazer has been accused of racism before.
In fact, the Problem Solvers have learned the city of Aurora settled a lawsuit for a $175,000 in 2008 because of DeShazer's conduct in 2006.
He is now returning to APD under a cloud of controversy. FOX31 first reported on Tuesday that the 53-year-old police veteran won his appeal to be reinstated by the department despite being caught on a body camera in June 2017 referring to African Americans as "Alabama Porch  Monkeys."
Police Chief Nick Metz terminated DeShazer on Sept. 1, 2017. However, on June 29 of this year, Aurora's five-member Civil Service Commission reversed the Chief's decision, ordering DeShazer to be reinstated, though as a Sergeant — not a Lieutenant. It also ruled DeShazer was not entitled to any back pay during the year he was on suspension.
"No doubt I was disappointed. I felt the termination was the correct course of action," said Chief Metz, who isn't the only one frustrated.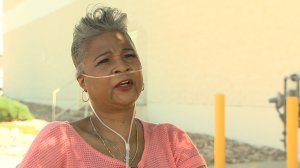 "It's very insulting and I'm angry about it," said Loree McCormick-Rice. The 62-year old told FOX31 she had a terrible run-in with DeShazer in June 2006, when he was working as an off-duty security guard at her local King Soopers grocery store.  "Here he is, Aurora police moonlighting at this store and he's using racial slurs to me and my then 12-year-old daughter," McCormick-Rice said.
McCormick-Rice said DeShazer accused her of parking illegally in a handicapped spot even though she had a handicap placard in her car and uses a portable oxygen machine that is clearly visible.
"And he said, 'Can you believe these f—ing N's," said McCormick, referring to the N-word.
McCormick-Rice said she immediately complained to store management at the King Soopers and then attempted to drive home. Store surveillance video shows DeShazer in an unmarked car pulling over McCormick-Rice in the parking lot and ordering her and her 12-year-old daughter Cassidy out of the car.
"The first thing he did to [Cassidy] was slap her in the face. She starts to cry. He said, 'Shut the f— up.' He starts to choke her, knocks her onto the ground and starts kicking her," said McCormick-Rice.
"I still have post-traumatic stress from that night," said Cassidy Tate, now a 25-year-old mother of two daughters living in Las Vegas.
"[That's] what makes [DesShazer] so different. Because if the truth be told, if this was a black dude who did this to a white kid, he would never be back on the force," said Tate.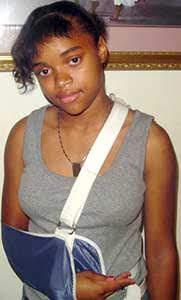 Cassidy Tate told the Problem Solvers Charles DeShazer fractured her shoulder that night, leaving her with lifelong nerve damage.  But instead of being fired, she learned Sgt. DeShazer was soon promoted to Lieutenant.  This, even though the city of Aurora would eventually settle with Tate and her mom for $175,000 after the two sued the city and its police department.
"So what makes Charles Deshazer so darn important to keep him on the force, to fight for him? He ruined my life. My life will never be the same," said Tate.
She is in disbelief that so many years later, DeShazer could be caught on police body cam saying, "We have all the Alabama Porch Monkeys contained," and still keep his job.
"Bravo and props to the chief for finally stepping up to the ballgame, for saying, 'Okay, look, you are done  serving under my department.' But then again, that sucks that the chief doesn't have anyone backing him," said Tate. Her mother has one request for the Civil Service Commission, "To reconsider their decision and stand by the chief's decision to terminate DeShazer."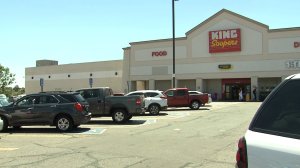 The Civil Service Commission and its chairwoman Pamela Turner have declined to speak with the Problem Solvers. Their written order suggests part of their decision was based on the fact that DeShazer has had no significant disciplinary history in his more than 20 years with APD.
Their order makes no mention of the 2006 King Soopers incident and it's not known if the case was mentioned during the closed-door Civil Service hearing.
Last week, the Problem Solvers asked for Charles DeShazer's internal affairs file, but on Wednesday, the city of Aurora emailed FOX31 to say it needs more time to respond to  our public records request.