This is an archived article and the information in the article may be outdated. Please look at the time stamp on the story to see when it was last updated.
DENVER -- It was a typical day working at Wizard's Chest for Kari Moon -- until thieves stole $4,000 from her purse.
"It was the most money we've ever had at any time," Moon said. "And it was gone in the blink of an eye."
The crime was caught on surveillance camera and when the FOX 31 Denver Problem solvers showed the footage, it led to tips and police arresting two suspects.
"I'm so happy you guys were there," Moon said. "If it wasn't for you guys I don't think they would have been caught any faster."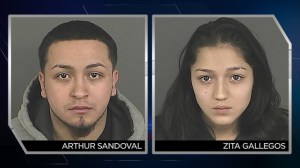 Arthur Sandoval and Zita Gallegos were charged with second degree burglary and theft.
"I was very relieved. I was so happy that these people were off the street and they can't steal from anyone else," Moon said.
The money stolen was intended to help buy a new family car. Moon said her family needs a vehicle better suited for snow to take their daughter to school. She added that police have said there is a possibility she will get the money back via restitution, but it could take some time.
"Trying to get the money back has been really tough," Moon said. "I don't believe any of it was recovered. I haven't heard anything so my husband and I have to go through savings to keep trying to get a new car."
Moon has started a GoFundMe to help cover costs in the meantime.