This is an archived article and the information in the article may be outdated. Please look at the time stamp on the story to see when it was last updated.
BROOMFIELD, Colo. — Fictitious traffic tickets have been generating big money for Broomfield City Court this past year.
About one-fifth of all moving violations were pleaded out to the same charge: Faulty headlamp.
According to court records, prosecutors allowed 840 drivers to plead guilty to faulty headlamps, even though the Broomfield Police Department cited zero drivers for having a broken headlight.
Although the plea agreements were designed to cut court costs and increase money collected from fines, the system denied justice to victims such as 29-year-old Jake Lally.
Lally, a bike mechanic and cycling enthusiast, described a "disappointing, frustrating" outcome to his hit-and-run case.
"I was shaking. I couldn't believe it," Lally said in the summer.
Police and court records show Lally was leaving work on his bicycle when a white van pulled close behind at a stop light near Sheridan Boulevard and East First Avenue.
Lally admits he turned to give the driver a dirty look, telling police he felt unsafe.
As he reportedly continued west on the street, moving out of the way near the curb, the driver pulled beside him.
"I kinda look and go, 'What are you doing?' And he slams on the brakes and veers over on me. Far enough where the tires hit the curb and left tire marks on the curb," Lally said.
Lally hit the back quarter panel of the van and wiped out, his hand bloodied and bike wrecked.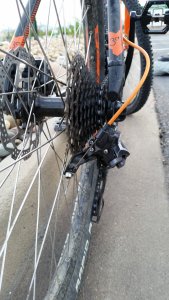 Two witnesses, one of whom was an off-duty police officer, reported the "van didn't stop" and their attempts to catch the driver failed because "he was going fast" away from the scene of the collision.
One of those witnesses, Janet Evans, said she believed the van's driver "swerved to hit the cyclist" and that it was "obvious he intended to hit the cyclist."
"He just veered over on me," Lally said. "The thought never crossed my mind that I was in that much danger."
Police, armed with a license plate from witnesses, tracked down the accused hit-and-run driver and his damaged van to a residence several miles away.
They cited the owner of the van, Marvin Gassman Jr., with careless driving, a four-point traffic violation, and ordered him to court.
Lally came to watch justice prevail, then reality struck.
"I was very surprised. I couldn't believe they dropped it to a faulty headlight," Lally said.
Gassman was let off the hook with a one-point faulty headlight ticket, even though his van, which stuck Lally, had two working headlights and it was daylight when the collision occurred.
Broomfield City prosecutor William Tuthill, did not return calls seeking comment.
At City Hall, Tuthill declined to explain the sweet deal, instead offering deputy city prosecutor Meredith Van Horn, who cut the deal with Gassman.
"She said she'd looked at the file and said that was what she thought he deserved," Lally said.
Adding to Lally's surprise, he said he stood in court and watched faulty headlight pleas happen over and over.
"Driving too closely, aggressive driving, all of them were getting moved down to a faulty headlight," Lally said.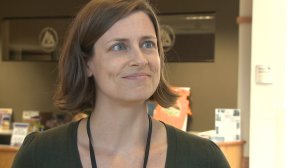 Van Horn shrugged off questions about what appear to be made-up tickets.
"That's sort of the nature of how plea agreements work," Van Horn said. "I mean, quite frankly, we have two municipal prosecutors and there's no way both of us could handle 840 cases if each of those cases went to trial. Our office is not equipped to handle that type of case load."
However, the city is well-equipped to collect fine money for all those guilty pleas.
Court records show at least $73,000 worth of fines for faulty headlamps were collected in a year.
What might be good for taxpayers, Lally said, is a lousy deal for victims.
Lally wonders if allowing the driver who hit him to plead to a lesser offense might have hurt his case with Gassman's insurance company.
The claim for repairs to his expensive bike and hand injury have gone unpaid.
Gassman refused to come to the door of his Broomfield home.
He told police he thought the cyclist had "slapped" his car and when he looked in his rearview mirror he "did not see the cyclist, so I figured he turned off somewhere."
Gassman's wife Rose, who was also in the van at the time of the collision, told a different version of events, saying, "We were afraid of the guy, so we sped away to stay safe."