This is an archived article and the information in the article may be outdated. Please look at the time stamp on the story to see when it was last updated.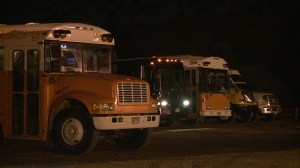 DENVER — Using the Colorado Public Utilities Commission's data, a FOX31 Denver Problem Solvers investigation discovered at least 65 percent of registered charter bus and limousine companies are not legally authorized to operate.
And unscientific, in-the-field research indicates the percentage of outlaw party buses could be even higher.
There is an abundance of state and federal laws, rules and regulations when it comes to operating party buses and limos in Colorado. Most of them are for passenger safety and to prevent consumers from getting ripped off.
The most basic regulation imposed on companies that transport passengers for money (and the easiest one for anyone to spot) is the existence of a prominent Public Utilities Commission license number either painted or placed on a sticker on the registered vehicle.
It's that number that helps any customer, state inspector or law enforcement officer to readily identify the operator. On the flip side, blank markings might be a signal something could be wrong with the company's permits to operate above board.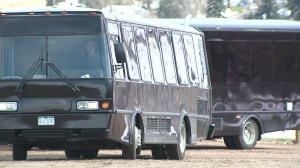 Using that as a starting point, the Problem Solvers conducted a fairly simple undercover operation, sending crews to Red Rocks on April 19 to one of this season's first music festivals.
It didn't take long to locate questionable charters such as My Denver Party Bus. The company sent two sleek, unmarked black party buses, neither of which had PUC stickers.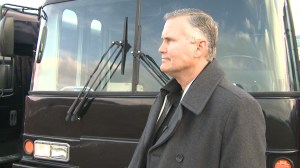 Investigative reporter Chris Halsne approached one of the drivers to ask about proper licensing and if the buses had undergone safety inspections.
"Yeah. I'd rather not. Rather not talk to you," one of the drivers said. "I don't want to talk to you. Another time? You can understand."
A second My Denver Party Bus operator, who was driving a rig without front license plates, no PUC stickers and without the name of the company displayed anywhere visible on the bus, said he was "new" and deferred comment when asked if he could provide state certification.
State records show the My Denver Party Bus license to operate was canceled in 2014. Its website is still open to taking in customers.
**UPDATE: After seeing this investigation on FOX31 Denver news, the owner of My Denver Party Bus, Andrew Berard, called and emailed the news department. He offered proof that his company now has a valid state license to operate. He said he acquired the license the day we confronted his drivers with questions at Red Rocks April 19. On Thursday evening, Berard also sent the station copies of insurance on both buses. "This year we have done everything in our power to be compliant," Berard wrote.
'Unfair business practice'
"That's just unfair business practice. None of my buses are up here today," said Kevin Harrold, operations manager for Sunset Luxury Limousines. "We're not booked tonight for anything just because we can't operate like this."
Sunset Limo is a licensed and inspected party, charter, and tour bus service that carries a $5 million insurance policy.
Harrold said state regulators audit his company regularly because it registers all its vehicles and owns a building that is easy to find. He wished out loud that the PUC would also send inspectors to do the harder work of catching outlaw bus operators at big events.
"No one inspects them. No one from the government comes out here to do it. I mean, I guarantee if (the Department of Transportation) or PUC showed up right now, these guys would be very shaky. Very nervous," Harrold said.
While at Red Rocks, the Problem Solvers also found a state safety inspection sticker from 2006 on an orange school bus spray-painted with the name bustoshow.org. About 200 passengers arrived on a series of Bus To Show vehicles.
The only number on any of the buses was a federal DOT number. It linked to a company called Velocity in Commerce City.
State records show Velocity has a scenic and school bus charter license in Colorado, but Bus to Show does not.
Ginger Geiser of Velocity said the company leases buses and drivers to Bus to Show. She did not explain why none of the Bus to Show buses had a visible state PUC number.
During the April 19 concert at Red Rocks, Halsne approached a Bus to Show driver to see why the buses, which brought passengers to the venue, did not appear to have the proper licensing and identifying information marked on the sides.
Dustin Huth claims he's one of the founders of Bus to Show. Huth likened his busing services to the ride-share program Uber.
One of the problems with that claim, according to experts, is that state rules do not allow charter buses to charge customers per person, something a customer said was his method of payment.
Huth defended the Bus to Show licensing and insurance set-up, saying because of its connection to Velocity, he had been assured all the paperwork was in order.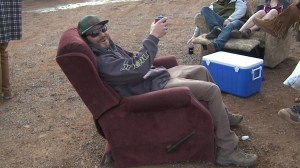 "We're a nonprofit organizing these trips to help reduce impaired driving and carbon emissions associated with events and so we're out here doing a really good thing," Huth said. "Yeah, there is a lot of red tape and a lot of laws and we've done our research to make sure we're set up appropriately."
State investigators are not as certain. After sharing the findings with the PUC, the agency said inspectors opened an investigation into Bus to Show and other party bus operations that were taped without proper markings.
Other party bus drivers said if the PUC could just show up to the main events, they could catch the outlaws themselves.
"I've never seen them before," a seasoned driver with Vibe Limo said. "It's like (Bus to Show) covered them in paint and showed up. It's kind of always a surprise."
Harrold said rogue bus operations like My Denver Party Bus might get away with cutting corners on insurance and safety inspections because state inspectors aren't in the field at big events to catch them.
"It hurts us through unfair business practices. We have to have insurance. We have to have drug testing, fingerprinting, hours of service, vehicle inspection records. All of that costs money and time and training," Harrold said.  "They can't get fined because there's no enforcement on them. Who's going to enforce it? PUC is not out here tonight inspecting vehicles. They work an 8-5 shift."
The PUC declined to go on camera to respond to complaints that its inspectors are too "8-to-5″ and not willing to regularly conduct surprise inspections in the field to catch questionable operations.
It left open the possibility of talking after it was done with its investigations.
After the promotion for the investigation hit the airwaves Tuesday, the Denver Police Department sent officers to the Red Rocks bus parking lot during a concert event.
Police said it issued some verbal warnings to several party bus companies regarding insurance.