This is an archived article and the information in the article may be outdated. Please look at the time stamp on the story to see when it was last updated.
DENVER -- About 58 million travelers went through Denver International Airport in 2017, 19 million of which stuffed their personal belongings through metal detectors, then stood motionless inside full-body scanners.
Hundreds of thousands of those passengers are estimated to have been pulled aside for additional physical screenings, some having set off the metal detector or been flagged with an unknown object on them via X-ray technology.
Others were "randomly" chosen by computers for additional hands-on pat-downs.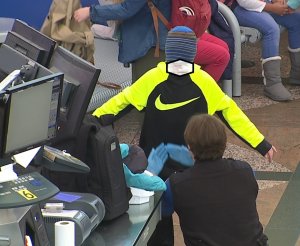 And the pat-downs, starting in March, were more personally intrusive than ever before.
The Transportation Security Administration gave screeners additional training, mandated a longer, more thorough search of a person's body.
According to those familiar with the new security tactics, same-sex screeners were given the greenlight to use the front of their hands-on passengers' breasts and crotches.
Cameras set up in public areas of DIA, recorded pat-downs lasting as long as two minutes and 20 seconds.
None of the searches appeared to result in any finding of a prohibited item.
The FOX31 Problem Solvers waited until the end of the year before filing a Freedom of Information Act request with the U.S. Department of Homeland Security asking for "an inventory of all items identified and/or defined as a 'weapon' discovered during the physical inspection of a person, otherwise defined as a 'pat down.' "
The scope of the request about DIA was limited to one year.
The response took about four months to research. The answer was one.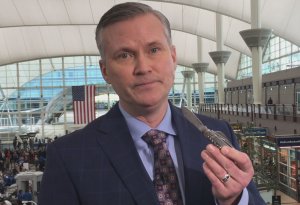 "Only one weapon (was) found as a result of a pat-down," the TSA FOIA response stated. A pocketknife.
"They actually put this in writing?" responded Mike Boyd, president of Boyd Group International, a strategic aviation consulting firm in Evergreen.
Boyd, who has been critical of TSA's lack of "anticipatory security" in the past, said TSA should, but likely won't, rethink the large-scale "grouping" of passengers if the enhanced pat-downs are not making travel safer.
"There''s not a plan to fix it," Boyd said. There's no plan to mitigate the damage. So, what we have here is a situation where they are pawing down, spending resources pawing down people for no reason and wasting money, wasting time and wasting the good will of the public."
"The use of security technology and physical screening measures is critical to mitigate threats," TSA spokeswoman Carrie Harmon said in a statement.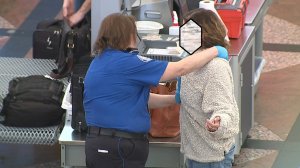 The statement did not address only pat-downs.
Federal records show hundreds of guns, knives, swords and fake hand grenades are discovered every year by TSA screening measures.
However, other than the official record regarding the one pocketknife discovered at DIA during physical screening in 2017, TSA has never addressed how many dangerous objects are discovered during the pat-down process.
TSA declined repeated requests to conduct an on-camera interview on the subject.
However, Harmon said TSA could not be certain its own internal document, which states only one weapon was found during pat-downs at DIA, is accurate.
Harmon said TSA does not require screeners to report how or where they might discover a prohibited item.
Late Thursday, TSA sent a statement.
Pat-down procedures are one of many methods TSA uses to detect and deter threats. In some cases, the only way to resolve an alarm generated by screening technology, as a result of canine screening, or indicated by other screening protocols, is to conduct a pat-down.

In addition, pat-downs can be powerful deterrents to those who may seek to do harm. That is why TSA continues to conduct pat-downs and refine this and other procedures in response to intelligence, previous and evolving threats, and the results of extensive testing. Pat-downs are conducted by an officer of the same gender, and passengers can request private screening.

TSA tracks the most dangerous items knowing that each could be detected through any one of TSA's screening methods. Each year, TSA at DEN finds hundreds of potentially dangerous items through an integrated security screening system. The combination of technologies and procedures is necessary because it is impossible to determine in advance which specific procedure will uncover a threat.