This is an archived article and the information in the article may be outdated. Please look at the time stamp on the story to see when it was last updated.
ENGLEWOOD, Colo. — Sirena Sisneros was a Swedish Medical Center patient who was kept in restraints.
But an Englewood police report obtained by the FOX31 Problem Solvers said that didn't stop nurse Savannah Andryczak from slapping Sisneros "in an aggressive manner."
The 26-year-old nurse faces an Englewood city assault charge. She also has worked at St. Anthony Hospital in Lakewood.
Swedish Medical Center fired Andryczak, and reported her to police and the Colorado Board of Nursing. But three months later, her license remains active because the state Nursing Board hasn't taken any action.
"If she could slap my sister with a witness in the room, how many people has she done it to before, with nobody in the room?" asked Raina Sisneros, the younger sister of Sirena.
Sirena Sisneros was admitted to Swedish Medical Center in September for sepsis after she started having serious complications from lap band surgery that happened 10 years ago.
"Mind you, Sirena was in restraints the whole time that she was in the hospital," said her mother Karen Ramos, who explained the restraints were necessary because her daughter's medication could cause her to thrash uncontrollably.
"She would always ask, am I safe here, am I safe here? And do you know how many times I said yes? And in reality she really wasn't," said Ramos.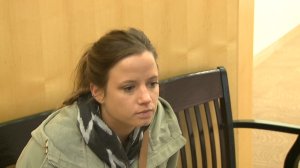 A hospital worker told police that on the night of Oct. 3, she saw Andryczak slap Sisneros across the face after the patient scratched and spit on Andryczak.
The witness told police that Andryzcak "never apologized for her actions" and said, "the patient was confused and advised me not to talk to her."
"I would hope that (the Colorado Nursing Board) would take her license away. I think anybody, first offender or not, doesn't have that right to get that second chance when it comes to caring for people," said Raina Sisneros.
"Cases before the Colorado Board of Nursing are closed to the public by state law," a spokesman said in a statement. "For this reason, we are prohibited from providing details concerning any complaints or investigations related to this individual. Any public disciplinary actions would be made public and posted on our website upon completion."
Sirena Sisneros died at Swedish Medical Center from sepsis on Nov. 1. She was 42.
Ramos carries guilt because she said her daughter had told her repeatedly about previous abuse from a nurse but didn't believe her until Andryczak was suspended and then fired after the Oct. 3 incident.
"She said, 'Mommy, I was moving my legs a lot last night and the nurse told me I had to stop.' And  I said 'Well what did you do?' And she said, 'Well I couldn't stop so she smacked me and pinched me in the legs.' Well, in all honesty, I just thought it was all the drugs talking," Ramos said.
A spokeswoman for St. Anthony said the hospital had no idea Andryzcak had been fired from Swedish and charged with assault until the Problem Solvers called.
St. Anthony spokeswoman Wendy Forbes said the hospital hired Andryczak in February, eight months before she was terminated by Swedish Medical Center.
"We are unable to discuss personnel matters," Forbes said in a follow-up statement. "As a part of our regular practice, St. Anthony Hospital requires a background check for all employees prior to hiring. This includes clinical and nonclinical staff. Protecting our patients from preventable harm is a top priority."
Forbes would not clarify if Andryczak remains an active St. Anthony Hospital employee but admitted she was when the Problem Solvers first asked about her employment status.
The Problem Solvers approached Andryzcak at a recent court hearing at the Englewood Civic Center to ask if she slapped Sisneros and wanted to offer her family an apology.
Andryzcak repeatedly replied, "No comment."