This is an archived article and the information in the article may be outdated. Please look at the time stamp on the story to see when it was last updated.
DENVER — The FOX31 Problem Solvers surveyed 23 law enforcement agencies across the front range for their policies on ballistic vests.  Our public records requests were made in response to the 2017 New Year's Eve death of Douglas County Sheriff Deputy Zackari Parrish.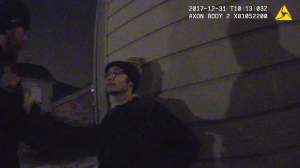 He was killed by Matthew Riehl while responding to a welfare check at Riehl's apartment. While Parrish was shot once in the head, FOX31 has learned from the Douglas County coroner that  six rifle rounds also penetrated Parrish's vest.  Parrish was wearing a level 3A ballistic vest, strong enough to withstand most handgun bullets but not rifle rounds.
Some of questions we asked law enforcement agencies included:
Which employees are required to wear ballistic vests?
Does the agency purchase vests for its officers or does it provide a stipend for officers to choose their own vest?
What level of vests are worn?
More: See all the "Bulletproof" stories from the FOX31 Problem Solvers
Our survey found Greeley, Loveland, Commerce City and Castle Rock generally have the strongest policies.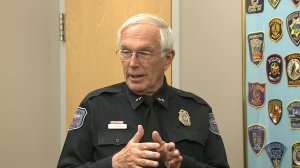 Those departments spend anywhere from $850 to $920 per vest to equip their officers with at least a 3A vest and all of them mandate their officers wear their vests anytime they're on duty.
"We`ve got bad guys that are very much willing to take on the police and many of them are armed and when you see that going on you know you`ve got to give your people the best that you can," said Greeley Police Chief Jerry Garner.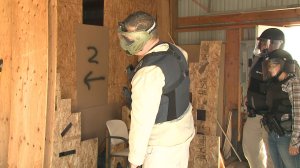 Garner allowed FOX31 to record video of  his officers while they were training inside a warehouse, where the scenario mirrored what Zackari Parrish faced in Highlands Ranch on December 31. the scenario was a despondent man who was well-armed but hidden behind a bedroom wall. During officer trainings all Greeley cops have to wear their body armor even if they're just practicing target shooting on the gun range.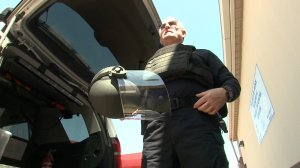 Greeley Sergeant Jim Blush, who oversees training operations, told the Problem Solvers in the past year his officers have been given new equipment to keep in all patrol cars.  Besides the Level 3A vest officers automatically wear, they can grab a secondary Level 3 vest and a ballistic helmet to stop rifle rounds.
"Let's say they're going into a real hot situation where SWAT has not arrived and the situation has gone down hill,  they're able to put this (Level 3 vest) on over their regular 3a vest," explained Sergeant Blush.
In Commerce City, the police department received an extra $50,000 in its budget last year to upgrade safety gear for all of its officers.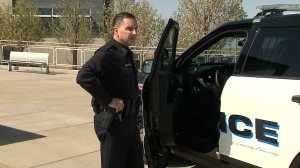 "We felt like if something happened out there that we would regret not spending the money needed to appropriately outfit the officers," said Deputy Chief Ken Evans, who noted Commerce City began giving its officers all new gear in December, just weeks before Douglas County Deputy Zackari Parrish was killed.
Just like Greeley, Commerce City mandates its officers wear 3A vests on duty and to keep rifle resistant vests and helmets in their patrol cars. But in addition, Commerce City has added bullet resistant panels to the front driver-side doors of its patrol cars.
"So that way when the officer is out on a traffic stop and they open the door if they stand behind the door that's an added sense of protection. That's not something we've had before," said Deputy Chief Evans.
In March, Commerce City police officer Curt Holland was responding to a carjacking where the suspect had already fired shots at the victim who tried to follow the suspect in another car. Holland remembered being told by his supervisor to immediately put on his additional body armor before engaging the suspect.
"We're dealing with somebody that's got a firearm and is obviously wiling to use it. It's nice to have a little more protection," said Officer Holland, who was able to take the suspect into custody without firing his weapon.
Of the 23 departments surveyed by the Problem Solvers, four don't mandate officers wear ballistic vests. Denver, Lakewood, Thornton and Adams County Sheriff's Office don't require their officers to wear protective vests but estimate 99 percent of their officers voluntarily choose to wear them.
Denver provides a $750 stipend and Lakewood provides a $700 stipend for officers to buy their own vest. Both Thornton and Adams County will pay for the vest directly.
Westminster and the Boulder Sheriff provide level 2A vests, which is the weakest level of protection and usually the cheapest to buy.
Nine agencies, including Fort Collins, Thornton and Denver refused to say what their minimum requirements are for vests.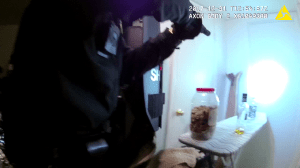 In denying our request for the specific type of vests worn, Denver's Records Administrator Mary Dulacki told the Problem Solvers in an email the following:  "These tactical details could be accessed by individuals who seek to stop officers from performing their public safety duties  and to injure or kill officers. The release of this kind of information exposes officers to a very real and present danger, especially in these times where we have witnessed unprecedented violent attacks upon members of law enforcement."