This is an archived article and the information in the article may be outdated. Please look at the time stamp on the story to see when it was last updated.
DENVER — Credit card skimmers are popping up on gas pumps across the Denver metro area ahead of a busy driving holiday time, but there's now a new way to protect customers.
Niwot-based company Sparkfun has created an Android app called Skimmer Scanner.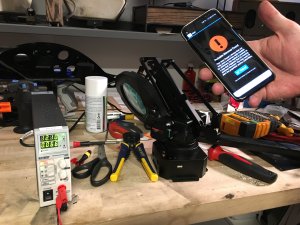 The app detects if there are Bluetooth transmissions near a gas pump. Skimmers typically use Bluetooth to transmit credit card information.
"You drive up to the gas pump. Before you put your card in, you open up the app on your phone and it has a button that says scan. Click scan and it was start scanning and give you a message a few seconds later about whether it's safe to use your card," said Nick Poole, who developed the app.
Poole believes the app will be helpful for customers and gas stations.
Geno Fresquez is thankful. He found skimmers on two gas pumps at his Lakewood 7-Eleven store on Monday.
"You would never be able to tell. I was able to open them and I wasn't able to tell," he said.
Fresquez only learned the pumps might have skimmers on them after a customer called to say her credit card information had been compromised.
"She called and said you guys might want to check your pumps. I've had my information stolen and I used my card there," she said.
Fresquez believes the thieves used a universal key to get in.
"The key I have can be used at most gas stations. I could go across the street to the Conoco and it would work," Fresquez said.
Sparkfun believes the app could make a big difference — and it already has. It's been downloaded more than 90,000 times in the three weeks since it was created.
"A few people have said it's saved their butts a few times," Poole said.
The app is currently only available for Android devices. The creators hope to have it available for iPhones soon.
RELATED: What to do if personal information is stolen