This is an archived article and the information in the article may be outdated. Please look at the time stamp on the story to see when it was last updated.
DENVER -- Two years after the FBI shut down his company, , the owner of Brown's Compounding Pharmacy has plead guilty to health care fraud and selling a drug unapproved for interstate commerce.
Darby Brown, 47, received two years probation and an $87,000 fine. He will serve no jail time.
In December, Brown gave up his company's registration after state investigators said he broke pharmacy board rules by saying in a document that he "should know said drug has no recognized medical utility or application."
Brown opened a 38,000-square-foot facility near Centennial Airport to great fanfare.
At the time, it served patients in 38 states, and bragged it was going to triple its staff of 95 people and draw all of its energy from solar power.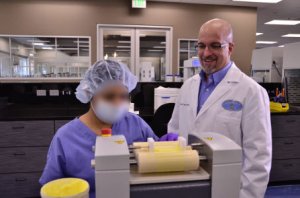 Brown's Compounding Pharmacy advertised itself as having the ability to create customized medications to meet individual patient needs.
But in June 2015, federal investigators shut down the lab. Investigators say the customized medications were never approved for interstate commerce.
Compounding centers alter pharmaceutical ingredients to create medications that aren't normally available in drugstores and they can put the drug into a cream instead of a  pill.
It's the pain creams Brown sold that raised concerns from the Drug Enforcement Agency, the FBI and the State Board of Pharmacy.
In court, Brown said the crimes were committed by his employees but as CEO, he took responsibility.
Federal judge Wiley Daniel said Brown caught a bad break but after court, Brown wouldn't say if he agreed with the judge's assessment.
He has a hearing in September before the State Board of Pharmacy where his professional license could be permanently revoked.