This is an archived article and the information in the article may be outdated. Please look at the time stamp on the story to see when it was last updated.
DENVER — Outside law firms billed the city of Denver $182,305.82 to help Mayor Michael Hancock's office settle a pair of lawsuits filed by members of his security detail.
The amount was unknown to taxpayers until Thursday.
The costs are in addition to a $200,000 settlement given to former Denver police officer Wayne McDonald in 2016.
He sued the city in 2013 after the mayor fired him for allegedly sexually harassing another member of his staff, Leslie Branch-Wise.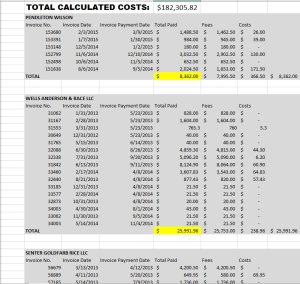 That figure is also on top of a $75,000 settlement Branch-Wise received in 2013 after accusing McDonald of harassing her.
FOX31, along with a consortium of other local media outlets, has been digging into the costs associated with this case since February, when Branch-Wise accused Hancock of sending her inappropriate texts during the same time frame when the McDonald case was unfolding.
Other media invested in obtaining documents in tandem with the FOX31 Problem Solvers include Denver7 Investigates, 9News, The Denver Post and radio station 710 KNUS.
At least one Denver City Council member, Rafael Espinoza, has recently raised questions about whether the mayor's office failed to reveal all the relevant details when his office was asking the council to settle the claims between his staff.
On Thursday, Hancock spoke about the figure and whether or not he will run for re-election.
VIDEO: @MayorHancock telling me he supports the decision for outside counsel in the Wise and McDonald cases– and he was surprised the figure wasn't higher. Background here: https://t.co/04tzHtzilV #copolitics #denver #kdvr pic.twitter.com/gZqKze06Oz

— Joe St. George (@JoeStGeorge) April 19, 2018
VIDEO: @MayorHancock on if he will run for reelection as Mayor of Denver. He plans on it. #copolitics #denver pic.twitter.com/79rfEJVkmg

— Joe St. George (@JoeStGeorge) April 19, 2018
From April 2013 to October 2016, financial records show the city of Denver paid three outside legal firms the $182,305.82 to deal with the security detail cases.
But the mayor's office did not delineate how much of that total was dedicated to the Branch-Wise harassment settlement and how much was dedicated to the McDonald unfairly-fired counter-suit.
Records previously obtained reveal it is not unusual for the city to hire outside law firms to deal with employment matters.